The Profane Chef
Mostly from Too Old to Die Young  (Dredger's Lane Press, 2015)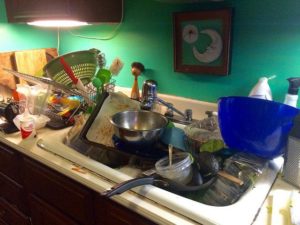 Under the aegis of "public service" I share with the world my treasured  culinary creations.
The green-bean casserole is the most revered. I've had friends ask me to prepare them for their families, to pass my work off as theirs. You should try it; it is life-changing.
So we have the Nuclear Green-Bean Casserole, White-Trash Macaroni, The World-Peace Sandwich, Cream-in-Your-Jeans Blueberry Cake, The Poor Man's Margarita, and a bonus track from the kitchen of Beatty Zimmerman, mother of Bob Dylan.
Bon appetit, dudes and dudettes!
Click for the recipes …
Sub-Atomic Breakfast Casserole *
Cream-in-Your-Jeans Blueberry Cake
It's All Right, Ma (I'm Only Baking): Banana Chocolate Chip Loaf Bread
 * The recipes for Sweet Willie's Chili and the Sub-Atomic Breakfast Casserole do not appear in Too Old to Die Young.