Newest stories first. Scroll down for an archive of my news from the last few years.
Attention fellow readers!
I always have two or three books going at once. As the cliche says, "Children learn what they live." I know I did. My father was a rabid reader. Every flat surface in the house had a book on it. He had a book going in every room.
Even when the family unit gathered in front of the electronic fireplace at night, he'd have a book. He wouldn't consider giving a television show his attention.

So folks like us, fellow readers — we're always looking to know more about books and find new authors.
I was so happy to come across this site, Shepherd, which has a great approach to book talk. (Click here! They said something nice about my Mile Marker Zero book.)
I just wanted to share. Happy reading!
For the record, I'm discovering the novels of Charles Portis. There's a new Library of America volume devoted to his Collected Works.
The guy was a masterful user of this language. He's known mostly for True Grit, which is a tremendous, lyrical book, but right now I'm deep into The Dog of the South, which is hilarious.
The Collected Works also has a selection of his journalism, which is stupendous. He was a product of the same newsroom that gave us Tom Wolfe, Gloria Steinem and Jimmy Breslin.
Perhaps there was something in the water cooler.
Making music is not a crime
I confess mucho ignorance about modern music, but I still appreciate an artist's work and the free society that protects said work.
I was featured in a recent episode of In the Loop. I'm sort of the geezer in residence, giving a little background on the nature of crime and the music industry.
They asked me because that music-crime relationship is at the center of my book Everybody Had an Ocean. The subject is Los Angeles in the 1960s.
It was nice to be asked. I learned a lot from the program, which addresses why rap artists end up in court.
Click on the image above to view the episode.

Lend us your ears — for Outlaw Journalist
Recorded Books has recently been putting a push behind the audio version of my  Hunter S. Thompson biography, Outlaw Journalist.
What a splendid way to learn about this great American author. The book includes many exciting swear words.
The book is performed by actor Fred Berman. I think he does an excellent job.
Buy the book and get two more books free.
 Click on the cover to order.
A gonzo-inspired symphony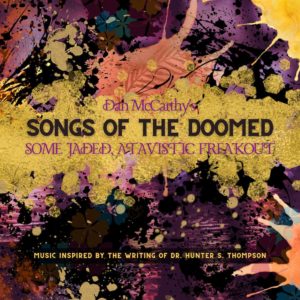 Musician Dan McCarthy has released Songs of the Doomed, a collection of pieces inspired by the writing of Hunter S. Thompson.
Music was important to Thompson. I've found that listening to certain music is subliminally inspiring. Thelonious Monk, John Coltrane and Miles Davis motivate me. Those artists never filed a flight plan and the improvisation goes to the gut. Listening requires that you engage with the music. It demands a response.
So I was blown away when McCarthy got in touch and started sending me some of his sound files. The finished work is excellent and he so effortlessly taps into the Gonzo zeitgeist.  Here is an article about the album.
The title comes from Thompson's 1990 book and is subtitled "Some Jaded Atavistic Freakout," of which we/re sure Hunter would approve.
All of the music is original save for Jenn McCarthy's singing of Jefferson Airplane's "White Rabbit," a Hunter Thompson favorite. The musicians on the album are McCarthy, vibraphone;  Don Scott, guitar;  Luan Phung, guitar;  Daniel Fortin, bass; and  Ernesto Cervini, drums.
Here is the Bandcamp page for the album, and the Amazon page.
McCarthy asked me to write the liner notes for the album, so here they are if you are interested.
Listen up! Perfect for your daily commute!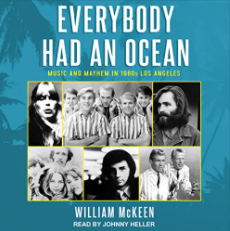 The audiobook of Everybody Had An Ocean is available now at Audible.com and other places where fine audio books are sold.
Actor Johnny Heller does an excellent job with the reading. 
It makes for a life-changing listening experience.
Live up that commute and listen today. It was produced by the fine human beings at Tantor Audio.
From the Audible page devoted to the book: "Everybody Had an Ocean chronicles the migration of the rock 'n' roll business to Southern California and how the artists flourished there. The cast of characters is astonishing – Brian and Dennis Wilson of the Beach Boys, Jan and Dean, eccentric producer Phil Spector, Cass Elliot, Sam Cooke, Ike and Tina Turner, Joni Mitchell, and scores of others – and their stories form a modern epic of the battles between innocence and cynicism, joy and terror. You'll never hear that beautiful music in quite the same way."
Rock'n'Roll University
The pandemic has opened up a lot of online-education opportunities.
I've become affiliated with One-Day University and really have enjoyed creating and presenting these lectures and getting into invigorating Q&A sessions with those who participate.
Here's what I've done so far:
The Times They Are A-Changin'. Music has always advanced the agenda of change. Rock 'n' roll did not invent the concept of protest music, but artists such as Chuck Berry, Eddie Cochran and Bob Dylan helped shape the changing country in the last half century. This course begins with the pre-rock traditions of protest found in folk music and in the social commentary of singers such as Billie Holiday. Chuck Berry imbued his early, classic rock 'n' roll songs with sly social commentary and Bob Dylan crafted anthems that endure: songs as relevant in 2022 as they were in the early Sixties. Professor McKeen will also explore how modern artists, such as Childish Gambino, carry forward the American tradition of music with a message.
The Case for Bob Dylan. Bob Dylan  won the Nobel Prize for Literature in the middle of the last decade, yet he didn't ease off and instead kept his foot on the accelerator. In 2020, he released one of his most highly regarded albums, and he continues to reinterpret his massive canon of songs from a hundred stages a year. While he has a vast network of dedicated fans, he has perhaps a greater number mystified by his popularity. The usual complaint is his voice. In this presentation, we'll examine Dylan's remarkable 60-year career and show how he has been — and remains — a masterful singer. Songs will include: "Mr. Tambourine Man," "Knockin' on Heaven's Door," "Blind Willie McTell," "Series of Dreams," "High Water (for Charley Patton)," and "Like a Rolling Stone."
When Good Vibrations Went Bad.The Beach Boys – three brothers, a cousin, and a pal – defined the joy and optimism of America in the early 1960s: tousle-haired Jack Kennedy was in the White House and the Beach Boys provided the soundtrack of the New Frontier. They were the first great American rock'n'roll band and their songs celebrated the "Fun, Fun, Fun" of that more innocent time. After achieving critical success in the mid-1960s with the bold and groundbreaking Pet Sounds album and the "Good Vibrations" single, the band's popularity fell off a cliff. Their principal songwriter, Brian Wilson – already suffering grievous mental issues — lapsed into a long period of withdrawal and decline. His younger brothers took the reins and led the group through the dark end of the decade, bringing Charles Manson into their circle. Despite the drama and dissolution, the group stayed active and produced some of the best music in its 60-year-history. At the time, the music went largely unheard. Now is your chance to listen to the music and hear their story.
The Day the Music Died.

In 1959, three young musicians came together for a tour of the upper Midwest. Each night, teenagers turned up at warm, cocoon-like ballrooms to greet the stars who'd made the 400-mile trips between venues on a bus with no heater.

Two weeks into the tour, Buddy Holly got fed up with shivering on the road and hatched a plan to charter a plane to take him from frigid Iowa to even-colder North Dakota. Two other artists – Ritchie Valens and JP "Big Bopper" Richardson – joined him. When the plane crashed just after takeoff, a generation that felt itself invincible was shaken by these deaths of talents so young, and was left to wonder: If the best and the brightest are susceptible, then aren't we all? Later immortalized by singer Don McLean as "The Day the Music Died," this course will look at the life and works of artists who died too soon.

Aretha 101

. 

Aretha Franklin's voice was a gift from God, so it's appropriate that she grew up singing in her father's church. Her talent was too great to be kept secret, so as a young woman, she was signed to Columbia Records by John Hammond. What could go wrong? Hammond was the force behind Robert Johnson, Bessie Smith, Benny Goodman and — eventually — Bob Dylan, Bruce Springsteen and Stevie Ray Vaughan. But

 lots

 went wrong. Aretha Franklin's recordings for industry giant Columbia Records were … 

OK

. After her five-year contract expired, Jerry Wexler pounced. Wexler was with independent label Atlantic Records. He had the genius idea of taking Aretha Franklin south, to a small studio in Muscle Shoals, Alabama. On an afternoon in 1966, her direction — and the direction of popular music — was forever changed. And then Aretha disappeared.

Woodstock: How it Happened (and Why it Almost Didn't). Imagine this: suddenly, you find out that a half million people are visiting this weekend. What will you serve? It wasn't quite that way for the organizers of the Woodstock Festival in 1969, but it was close. The organizers planned for a crowd … but they never expected those kinds of numbers. This talk is about the behind-the-scenes machinations of putting the thing together against horrifying odds. For the organizers, this was an event along the lines of a community-involved art installation by the French artist, Christo. When Christo involved people in sharing a vision and a project, they discovered a journey more vital than a destination: the art was in the doing. We will also talk about the music, of course, and the abject fear the musicians felt with an audience that large.
Listening does require a membership, and if you are interested, link here. There are hundreds of wonderful classes available.
I particularly enjoying hearing from people after they've listened to one of my talks.

Now available in paperback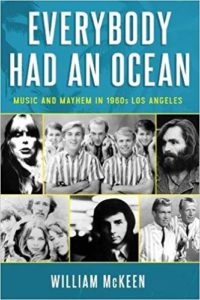 Everybody Had An Ocean
Music and Mayhem
in 1960s Los Angeles
Order the paperback here.

Keep on readin' in the free world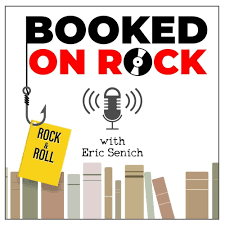 Here's my appearance on the wonderful podcast, "Booked on Rock." Host Eric Senich invites authors of books on rock'n'roll to come on and yak about their book and music. 
We both geek out on the subject of Los Angeles in the 1960s, the subject of my book Everybody Had An Ocean. Click on the Booked on Rock logo to hear the podcast.
By the way, Everybody Had an Ocean is now available in paperback. It makes a wonderful gift. Order a few hundred copies here.
Watch this space for news of the upcoming audio book.
That island in the stream
I had a nice chat with Cathy Salustri for her podcast, Florida Spectacular.
Our subject was my book Mile Marker Zero — about the writers, artists and musicians who assembled in Key West in the 1970s.
The cast includes Jimmy Buffett, Tom McGuane, Margot Kidder, Jim Harrison, Peter Fonda, Tom Corcoran and many others. I always enjoy revisiting this book and this conversation was a delight.
The hardcover is available from Crown Publishers and the paperback is available from the University Press of Florida.
Click on the logo to hear the conversation.
'Where the Action Was'
I finished my interviews for an upcoming 12-part television series about the Los Angeles music world of the 1960s. If that sounds familiar, it's because I covered a lot of the same territory in Everybody Had An Ocean. (Order that fine book here.)
The series, which begins streaming midyear, is called Where the Action Was.
This picture is a screen capture from the interview. Note that the producers have a blowup of my book's cover in the background. I hope this appearance helps boost sales. I keep telling the boys I'll get them back to three meals a day, so this might help. (Note link above, which takes you to the purchase page for the book.)
The series is going to cover a lot of territory and its title is taken from the after-school daily rock'n'roll show that was on ABC in the days of my youth. "Where the Action Is"  ran 1965-1967. Remember the theme song? — Dance dance dance when you hear that beat; Dance dance dance get up off of your feet.  That show morphed into  "Happening '68," which turned into "It's Happening" before going off the air in 1969.
The host was the ubiquitous Dick Clark, but the regular (as in daily) guests — in their Revolutionary War attire — were Paul Revere and the Raiders. That group's lead singer was Mark Lindsay, who serves as the on-camera host of Where the Action Was.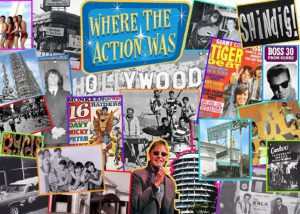 Lindsay was the driving force behind Paul Revere and the Raiders and was close to the group's producer at Columbia Records, Terry Melcher.
For a time, Lindsay and Melcher shared a house at 10050 Cielo Drive in Los Angeles. When Melcher's relationship with actress Candace Bergen became serious, Lindsay began to feel like a third wheel and moved out.
Melcher and Bergen eventually moved to a Malibu beach house owned by his mother, movie star Doris Day. Melcher leased the Cielo Drive house to filmmaker Roman Polanski and actress Sharon Tate. One theory about the subsequent notorious murders at that address was that Charles Manson sent his murderous minions to that house to scare the shit out of Terry Melcher. If that was the plan, it worked.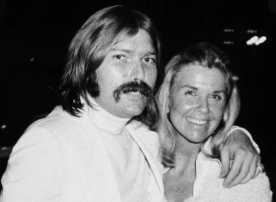 (Manson was aware that Melcher had moved. He had dropped by the house since Polanski and Tate moved in. He did not send his killers to the house to kill Melcher, but to frighten him. Manson had hoped Melcher would get him a recording contract.)
Both my book and the television series deal with Manson's ability to infiltrate the rock'n'roll clerisy of Los Angeles, including Melcher, Dennis Wilson of the Beach Boys, Cass Elliot of the Mama and the Papas, Neil Young and Frank Zappa.
I'll post updates when we learn when the series will be available.
Music as a force for social change

My talk about American protest music — called "The Times They Are A-Changin'" — is posted on the One-Day University site. Access it here.
I use a lot of examples — from Billie Holiday to Bob Dylan to Childish Gambino — to talk about that most American of qualities, our desire to protest and fight for social justice and change.
Here's the description from the One-Day University site:
"Music has always advanced the agenda of change. Rock 'n' roll did not invent the concept of protest music, but artists such as Chuck Berry, Eddie Cochran and Bob Dylan helped shape the changing country in the last half century. This course begins with the pre-rock traditions of protest found in folk music and in the social commentary of singers such as Billie Holiday. Chuck Berry imbued his early, classic rock 'n' roll songs with sly social commentary and Bob Dylan crafted anthems that endure: songs as relevant in 2020 as they were in the early Sixties. Professor McKeen will also explore how modern artists, such as Childish Gambino, carry forward the American tradition of music with a message."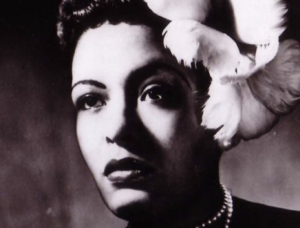 I play these songs in their entirety (and excerpts from a couple more):
"Strange Fruit" by Billie Holiday
"Summertime Blues" by Eddie Cochran
"The Lonesome Death of Hattie Carroll" by Bob Dylan
"This is America" by Childish Gambino
I recommend a few more songs as a supplemental playlist (I had only 45 minutes, so I could play everything I wanted to play):
"Deportee (Plane Wreck at Los Gatos)" by Woody Guthrie
"Pastures of Plenty" by Woody Guthrie
"I Ain't Marchin' Anymore" by Phil Ochs
"Mississippi Goddam" by Nina Simone
"Fight the Power" by Public Enemy
"Alright" by Kendrick Lamarr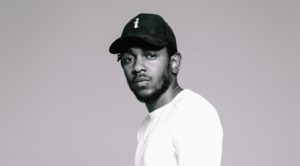 Preparing and performing the presentation — and taking questions at the end — was a lot of fun. Hope you have time to view and enjoy.
Though often these songs are rooted in contemporary events, the best of them ("Blowin' in the Wind" is a convenient example) are timeless. This is a nation that by definition questions itself. When we sing the national anthem, we end with a question. These songs and so many others define who we are.
I hope you have time to listen to my talk.
Working with a mad-dog journalist
Margaret Harrell has published her memoir of guiding Hunter S. Thompson through the writing of his first book, Hell's Angels. 
The Hell's Angels Letters is an over-size book, generously illustrated with photographs and reproductions of Hunter's frenetic letters. 
Margaret has published a series of books called Keep This Quiet, but this is her first extended work about the process of working with Hunter and the delicate dance between writer and editor.
The book is available for order here.
I was flattered to be asked to contribute a short piece about Margaret. I got to know her (and interview her) while doing Outlaw Journalist. We've been on panels together at Gonzofest and George Mason University.
Read "There's Something About Margaret," my contribution to the book, here.
The Hell's Angels Letters is a lavish book and is of great interest to Hunter's fans and people interested in studying the mysteries of the creative process.
Check out Margaret's website (margaretharrell.com) for interviews, pictures and other information.
Here is a video of a two-hour panel discussion (via Zoom, of course) about the book, with Margaret, and a panel of people who've written about Hunter: Ron Whitehead, Peter Richardson, Rory Patrick Feehan and my own bad self. It's hosted by Alice Osborn.
Ron knew Hunter and is, of course, the Grand Exalted Mystic Poobah behind Louisville's annual Gonzofest.  Peter is the author of several fine books, including an upcoming book on the birth of Gonzo.  Rory wrote a brilliant doctoral dissertation on the literary creation known as "The Hunter Figure."
Click on the montage of faces above (I'm on the left with Rory and Peter and Ron are at right; Margaret is in the middle) to hear the presentation.
Remembering Hunter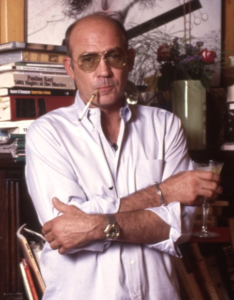 It's been 15 years since Hunter S. Thompson's death. Here is a link to the piece I wrote for the St. Petersburg Times the morning after his suicide. I used it as a the preface to Outlaw Journalist.
I'm quoted in a Gentlemen's Quarterly article about Hunter Thompson's sometimes-difficult relationship with his hometown.
Louisville has finally begun to embrace the great and idiosyncratic products of its streets — Muhammad Ali (the airport has been renamed in his honor) and Thompson.
Fine citizens of that city, mostly led by poet Ron Whitehead, are working to maintain the Thompson legacy. The hometown is increasingly aware of Thompson's tremendous accomplishments and his importance in American culture and literature.
Talkin' Bob Dylan's laundry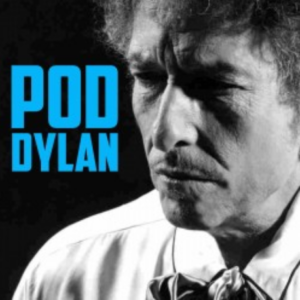 Here's my episode of "Pod Dylan," the podcast that examines the work of Bob Dylan, one song at a time.
The host, Freewheelin' Rob Kelly, asks guests to pick a song to discuss, and I chose "Clothes Line Saga," a stoned-out little tune that records a family conversation about doing laundry.
This was recorded by Bob and The Band as part of the home-made demos that became known as "the basement tapes" in the summer of 1967. It was first released officially on the 1975 compilation called The Basement Tapes and  was later part of The Bootleg Series, Vol. 11: The Basement Tapes Complete in 2014.
The song was probably inspired by the huge hit of that summer, "Ode to Billy Joe" by Bobbie Gentry. But I don't see the Dylan song as any kind of response to that Delta drama. To me, he's just showing off his gifts as a songwriter. I can imagine him driving over to Big Pink, the Band's headquarters-house, where they recorded the demos in the basement. Maybe heard Bobbie Gentry on the radio and thought, "I'm going write a song about laundry, motherfuckers!" After recording it, Garth Hudson of the Band, who was recording the music, marked the tape box with the title "Answer to Ode."
Again, though, I don't see it as an answer to anything. Maybe he did it just so show that he could. This is his only known recording of the song.
In addition to our conversation, this episode of Freewheelin' Rob's podcast includes Bob's version of the song and part of a beautiful cover version by The Roches.
Click on the Pod Dylan button above to hear this episode.
Gonzofest
In 2019, I finally made it to  Gonzofest, Louisville's annual celebration of hometown boy Hunter S. Thompson. It was great to  be there, since my attendance all previous years had been thwarted by conflicts with my university schedule.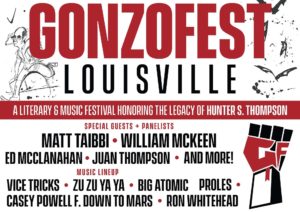 The annual event in Hunter's old stomping ground is the brainchild of poet Ron Whitehead.
The conference featured Matt Taibbi of Rolling Stone; Margaret Ann Harrell, Hunter's Hell's Angels editor; Irish scholar Rory Patrick Feehan; Timothy Denevi, author of Freak Kingdom; Hunter's son, Juan Thompson, and many others.
I spoke about Gonzo and its place in the development of American literary journalism.  I also wrote a piece on the subject for Louisville's alt-weekly.
Gonzofest was great fun and it was a hoot to hang out with such wonderful people, even if only for a short time.
Click on the cover of  Leo Weekly (at right) to read my cover story called "When Gonzo Roamed the Earth." It's a revised version of the afterword I wrote for Fear and Loathing Worldwide, a scholarly look at the impact of Hunter S. Thompson's journalism around the globe.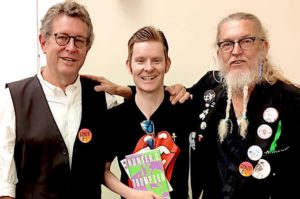 With Rory Patrick Feehan and Ron Whitehead at Gonzofest. Rory's doctoral dissertation at Mary Immaculate College in Limerick, Ireland, was on Hunter S. Thompson.
Shop 'til you drop
My online store is finally open for business and I hope you will check out some of these products I've designed.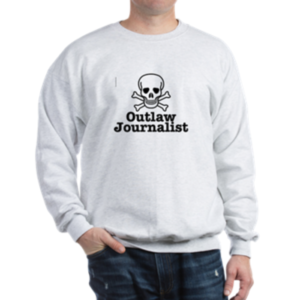 Click here to enter a marvelous online boutique featuring clothing (for men, women and children), drinkware, flasks, baby bibs, buttons and other fun stuff. We even have clothing for dogs.
Much of the stuff relates to my books, Outlaw Journalist, Everybody Had an Ocean. Mile Marker Zero, Highway 61 and Rock and Roll is Here to Stay.
A lot of the stuff  relates to journalism. What better time to show your pride as an agent of free expression — or to support those who are fighting the good fight for free speech in this divisive world of ours.
I've designed apparel and drinkware with the theme of 'Trust Me, I'm A Journalist.'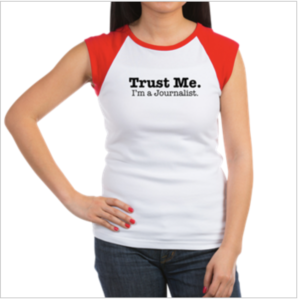 There are also a couple of lines quoting mantras of characters from my books, including Hunter S. Thompson ('Music is Fuel') and Brian Wilson ('Music is God's Voice on Earth,' the epigram from Everybody Had an Ocean, and 'God Only Knows What I'd Be Without You.')
Hope you enjoy shopping.

My essay-remembrance about Tom Wolfe ("Tom Wolfe Elevated Journalism") appeared in Fast Company.
Click on the cover to read the piece.

Blast from the past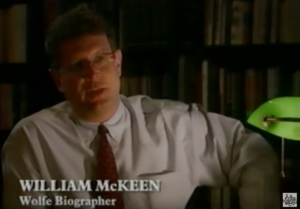 It's not exactly "news," but thanks to the gods of YouTube — and really, what did we do before it came along? — I've found the episode of "The Great Books" from The Learning Channel that features me. The great book we were featuring was The Right Stuff by Tom Wolfe.
Walter Cronkite's production company made the film and I did my interview at Walter's desk. I followed Chuck Yeager into the room, missing him by minutes, but awash in his lingering fumes. Good thing I didn't strike a match.
The 'lost years' of the Beach Boys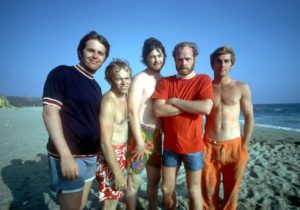 At the link below, you should be able to listen to my appearance on 'Rock and Roll is Here to Stay,' on WTBU Radio at Boston University.
Host Kiran Galani allowed me to put together a setlist and yammer about one of my favorite periods in American music: The Beach Boys, 1966-1972.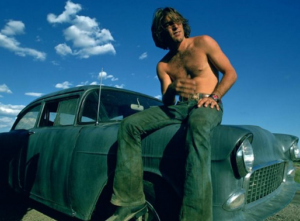 Their surf-and-turf heyday was past. Brian Wilson was semi-incapacitated by grief over his failed project, the  'teenage hymn to God' that was Smile. The other members of the group came forward and we begin to discover the creative soul of Dennis Wilson. The youngest Beach Boy, Carl Wilson, assumed leadership.
The show begins with part of Don McLean's 'American Pie,' but soon moves into 'Good Vibrations,' then the music of the lost years.
This is the period explored in Everybody Had an Ocean.
Hope you enjoy.
From a satisfied reader
I just finished your excellent book Everybody Had An Ocean. You have a way of presenting the diverse stories surrounding all these artist and groups that is very compelling.
Truly a page turner. Really loved the way you jumped from one story to another, chapter by chapter. Little Byrds, here, some Buffalo Springfield there, then back to the Brian Wilson saga.
I have read a great deal in my life, and lately a lot about those magical times we lived through, and it is always nice to get a hold of a book that transports me back to those days in the way yours did.
JIM
(Psst. You can order the book here.)
Remembering Tom Wolfe
Tom Wolfe died May 14, 2018,  at 88. He was a titanic figure in American journalism.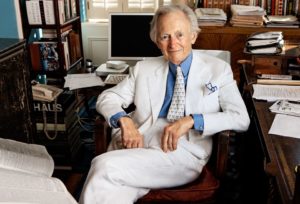 I wrote a book about him and his work in 1995 and later helped him while he was doing research for his college novel, I Am Charlotte Simmons, which came out in 2004.
He was very kind to me and to my daughter Sarah, who hosted him at her University of Florida sorority, also part of his Charlotte Simmons research.
He was nice enough to write blurbs for a couple of my books — he called me "incomparable" when he praised Rock and Roll is Here to Stay — and sat still for a couple of interviews.
I was asked to write this piece for The Conversation about Wolfe's importance to journalism.
Go to my Tom Wolfe page on this site — the page devoted to my book — to read a memoir of my time as his host. I also have a link to an interview I did with him for American History magazine. The subject was heroism. The Washington Post published a piece some years back about Wolfe's time at the paper and it references my book. Here it is, if you'd like to read it.
He was an important figure in my life and I think we will all miss him terribly.
As I say in my piece for The Conversation, because of him — and some of the other literary journalists of his time — journalism went from being merely the means to an end, to being a justifiable end.
When young people ask me why all the fuss about the 1960s, what made it "pandemonium with a big grin" (a classic Tom Wolfe phrase), I hand them a copy of The Electric Kool-Aid Acid Test. That seems to do the trick. Fifty years on it remains the Great Book about the 1960s.
Talking about Hunter S. Thompson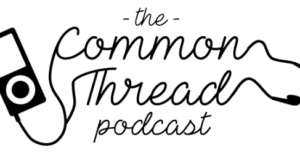 Here's my appearance on the Common Thread Podcast, run out of the Howard Thurman Center at Boston University.
The primary interlocutor is Kobe Yank-Jacobs, with questions here and there from Patrick Reid.
Click on the logo to hear the podcast.
It's always a pleasure to talk about Hunter S. Thompson — and especially fun when the questions are so good and thought-provoking.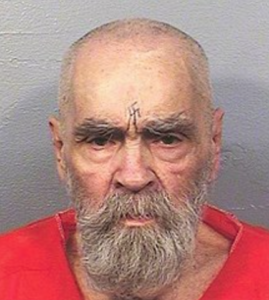 My Manson commentary
To listen, click on the insane man's face. This audio is from the 'Academic Minute' at Inside Higher Ed, and is adapted from my article in The Conversation.
Hey, look me over!
It's not the kind of list you necessarily want to make, but hey — I guess this means my latest book, Everybody Had an Ocean,
was worth some attention.
Click on the Huffington Post logo to find my latest  on a list of the 'Most Overlooked Books' of the last year.
You can order this fine book by clicking here, and it will not be overlooked — at least not by a cool, groovy, neat and outasite person such as your own bad self.
From a another satisfied reader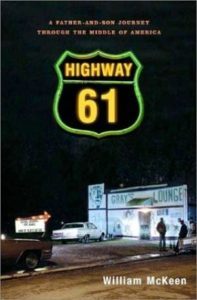 Just finished Highway 61. Same emotion as when I recently finished Mile Marker Zero for the second time – tears. 
Highway 61 is like all of my road trips – I didn't want it to end. The beauty of Highway 61 is what most of us would dream of – a long road trip with our child.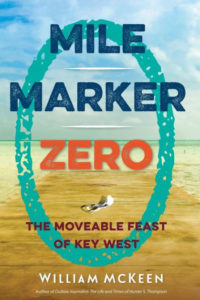 Thanks for this wonderful book, so full of information, facts, pleasures and observations. Don't know why it took me so long to find it, but it is significant as a documentation of a time, places and people. 
Thank you for writing.
STAN
 Recent Writing
"McKeen weaves his story with
a natural storyteller's grace."
As far as I can tell, that's the first time the word grace has ever appeared in a sentence with my name. (The sentence comes from a review in Under the Radar.)
Everybody Had an Ocean  is available at fine bookstores everywhere, but if you are too lazy to go visit one of those wonderful places, you can order the book through IndieBound, a community of independent bookstores. You can get it at all the usual places, of course.
For example: here is the Amazon link.
I interviewed all of the Beach Boys over the years, except for Brian Wilson. A writing partner interviewed him for a story we were working on in the mid-1970s. He said talking to Brian was like talking to a throw pillow.
I think he's a lot better off now.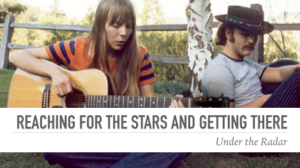 Beyond the Beach Boys, Everybody had an Ocean has an impressive cast of characters, including Michelle Phillips and Cass Elliot of the Mamas and the Papas, Charles Manson, Neil Young, Joni Mitchell, Sam Cooke, Tina Turner, Bobby Fuller, Phil Spector and an buttload of others. It's a history of Los Angeles rock'n'roll in the 1960s, with a focus on the crossroads of the music business and crime.
The Current said "Everybody Had an Ocean is a great read, one that offers real insights into the burgeoning L.A. music scene in the '60s."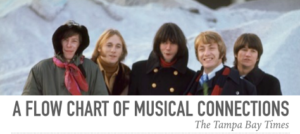 I post a lot of things related to the book on Facebook:  videos of the artists I profile performing, for example.
Check out the book's Facebook page. 
People talk to me about stuff
Long-distance friends

During a summer trip to Ireland,   I met two Hunter S. Thompson scholars — Martin Flynn in Dublin and Rory Patrick Feehan in Limerick.
Martin runs the HST Books website, and Rory manages Totally Gonzo. We'd corresponded for years, but these were the first face-to-face meetings.
Oddly,  they have never met each other, but they promise to get together soon and wrestle nude in creamed corn.
I was flattered to be asked to serve on Rory's doctoral committee at Mary Immaculate College. He produced a superb piece of work. He insisted that I accompany him to four or five (I lost count) taverns that evening to celebrate.
For my absent friend
I recently learned of the death of my friend and mentor, Starkey Flythe, Jr. I feel that I have done something awful by walking the earth these last four years without knowing he was gone.
Starkey Flythe was managing editor of the Saturday Evening Post when I worked there in the mid-1970s. I learned so much from him.
He shaped my tastes in writing, introducing me to the works of Flannery O'Connor and Eudora Welty, and was himself a great voice of the South (and an O. Henry Award winner).
He was my graduate school, my mentor, my role model and my friend. He led a remarkable life. I hope he rests in peace.
Please spend the next eight minutes of your life watching this beautiful short film by Matthew Buzzell, "The Moment Before the Song Begins." It's a celebration of his art and a tribute to a remarkable, eccentric and deeply talented man.
Health update

Seven years after multiple surgeries, chemotherapy and radiation,  I remain cancer-free. That does not mean things are ducky, though.
My sudden absence from social media in the late summer of 2018 made some worry that I was seriously ill. Of course, this indicates that I spend too much time online, but friends felt there was something fishy about my silence and that, perhaps, I was sick.
Indeed I was. In fact, I nearly died.
In late August of that year, I was home, recovering from knee-replacement surgery and dealing with a series of urological issues.  I thought I was going to be all right, but boy, was I wrong.
Turns out I was about two hours from death when Sarah, my quick-thinking eldest daughter (with an able assist from my ex-wife),  made the executive decision to call an ambulance for me, over my objections.
I've told Sarah she now gets to play the I-told-you-so card the rest of her life. I was in septic shock with a 104-degree temperature, delirious and shaking with chills.
After emergency surgery and lots of antibiotics, I came back from the brink.
I didn't cancel any of my classes and got help from colleagues who sat in for two class sessions. Luckily, another colleague, Susan Walker, stepped forward and shared the department-chair duties. This gave me time to concentrate on the limited things I could do — teaching class — before I resumed the chairly duties.
It was a tough time. I lost 15 pounds in one week. Sarah Kess, with whom I share an office suite, said I looked gaunt. As a guy who's spent most of his life overweight, 'gaunt' was music to my ears. But gaunt is no good if you're dead.
The strangest part of the experience was the double whammy thrown on my brain by the blood infection and the fever. I was rendered totally inarticulate and mute, unable to answer the simplest of questions. Talking to the EMT's and struggling to answer their questions was probably one of the scariest moments of my health adventures of the last seven years.
I've since had two bouts of septic shock but now that I know what it is, I can feel it coming and get the help I need.
In other health news:
I appear to have weathered the first two years of the global pandemic well. My sons have taken good care of me during isolation. I tested positive for COVID-19 and isolated for two weeks. It felt like a bad cold. I was lucky. My son Jack, who lives with me, got hit a little harder than me.
I have been vaccinated and boosted.
I had a gastric-sleeve operation in 2017. In the aftermath of that surgery, my stomach was reduced by three-fourths and I have little interest in eating other than that which is needed to stay alive.
I have lost 85 pounds since the gastric surgery and I feel pretty darn good. I hoped post-surgery walking would help me lose the last 20 pounds I hoped to lose. Then came the pandemic. My doctor told me I'd gained 5-6 pounds, probably owing to commuting no longer being part of my life. Running for trains and ferries kept me in some kind of shape.
I applaud and deeply appreciate the vigilance of the Dana Farber Cancer Institute. I'm there about four times a year as the staff studies my loathsome carcass, to make sure the cancer does not return. The quality of care is astonishing.
I tell the story of my health adventures in Asshole: A Memoir, available here and through the link above. I have a few more episodes to write before I'll consider it finished. I haven't gotten to the septic shock story yet and may write something about the lingering stuff that drives me crazy — neuropathy and tinnitus.
Rockin' in the free world
When the semester isn't in session, I feel like a nuclear power plant that's been shut down.
I'm in my 45th year as a college teacher and I've never gotten tired of it. I've never even had a sabbatical.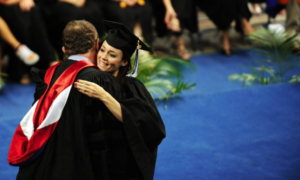 I taught at Western Kentucky University 1977-1982, at the University of Oklahoma 1982-1986, at the University of Florida, 1986-2010 and at Boston University, since 2010. 
If you were in one of my classes, I'd love to hear from you at wmckeen@bu.edu.
I keep up with a lot of former students on Facebook, which I use as a sort of illustrated Rolodex of my life. It's good to see how everyone's doing.
Being a teacher is a lifetime commitment, so let me know if I can do anything to help you.
Take care.
Entire contents of the site Copyright © 2023 William McKeen