Rock and Roll is Here to Stay, 
an anthology
W.W. Norton, 2000
I could fill footlockers with the material assembled for this anthology. (In fact, I have, and they are part of the Howard Gotlieb Archival Research Center at Boston University.)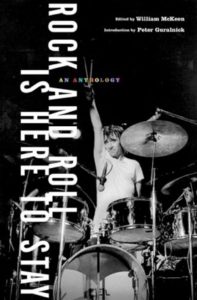 This started life as a spiral-bound reader that students picked up at the copy shop for use in my honors seminar in rock'n'roll history. My then-agent, David Hendin, saw it on my desk one day and said, "Why don't you turn this into a book?"
It took five years, but that little reader (15 articles, no pictures, binding that fell apart when you turned the page) grew into this mammoth volume with wonderful glossy photos, swell design and beautiful production. And the book costs less than the booklet. Go figure.
It took such a long time because I went through three editors at the publishing house — ending with Amy Cherry, the perfect editor — and a long struggle to find a "name" to put on the cover with mine, to help sell this to the masses. Luckily, Amy was able to convince America's finest music writer, Peter Guralnick, to write the introduction.
Read my preface,  "Thoughts on a Horny Poodle"
Reviews
"The incomparable Bill McKeen's Rock and Roll is Here to Stay is a rock classic in its own right." —Tom Wolfe
"If rock'n'roll is your religion, this just might be your bible." —Maxim
"If you like rock and roll, you'll love this raunchy, rollicking anthology–great writers, great music, and astounding musicians… —Carl Hiaasen
"The anthology…succeeds in gathering some of the best pop-music writing that's ever appeared in print." —The Dallas Morning News
"This is as great a rock party in prose as you could imagine." —The Buffalo News
Here's the table of contents:
William McKeen  Preface
Peter Guralnick Introduction: Falling Into Place
I. DEFINITION OF TERMS
"What we talk about when we talk about rock and roll."
Bob Dylan  Bringing it all Back Home
Irvine Welsh  In Me Around Me and Everywhere
Pete Townshend  Meaty, Beaty, Big and Bouncy
Nick Hornby  Looter
Salman Rushdie  A World Worthy of Our Yearning
Levon Helm, Martin Scorsese and Robbie Robertson
'And if it Dances …'


II. ANCESTORS
"Jerry Lee … beat the boogie so hard that there was nothing left of the rhythm, nothing but the sounds of the Holy Ghost."
Charlie  Gillett  From the introduction to 'The Sound of the City'
Robert Johnson  Me and the Devil
Alan Lomax  The Land Where the Blues Began
Bob Dylan  Blind Willie McTell
Robert Palmer  From the Delta to Chicago
Greil Marcus  The Myth of Staggerlee
James Miller  King of the Delta Blues
Nick Tosches  Jerry Lee Lewis Sees the Bright Lights of Dallas
Grace Lichtenstein and Laura Dankner  Fats
Bumps Blackwell  Up Against the Wall with Little Richard
Colin Escott and Martin Hawkins  706 Union Avenue
Charlie  Gillett  The Fives Styles of Rock and Roll

III. SUPERSTARDOM
"We sing the guitar electric."
Brian Wilson  Do You Remember?
Peter Guralnick  Elvis, Scotty and Bill
Chuck Berry  Got to Be Rock and Roll Music
Nelson George  The Godfather of Soul
Philip Norman  A Good Stomping Band
Tom Wolfe  Words to the Wild
Patti Smith  dog dream
Charles Shaar Murray  Hendrix in Black and White
Joel Selvin  These are the Good Old Days
Richard Goldstein  Next Year in San Francisco
Peter Guralnick  Return of the King
Terry Southern  Riding the Lapping Tongue
Jaan Uhelszki   I Dreamed I Was Onstage with Kiss
in my Maidenform Bra
Bob Marley with Timothy White  Worth Dying For
Anthony DeCurtis  A Life at the Crossroads
Dave Marsh   I Wanna Know if Love is Real
Joyce Millman  Primadonna
Jon Pareles  Precious Oddball
Gavin Martin  Articulate Speech of the Heart

IV. WEIRDNESS
"Fame requires every kind of excess."
Mae Boren Axton  Testimony in the Payola Hearing
Unknown  The Plane Crash
Tina Turner with Kurt Loder  A Fool in Love
Dave Marsh  Merchants of Filth
Maureen Cleave  More Popular than Jesus
Ronnie Spector with Vince Waldron  Inflatable Phil
Stanley Booth  Altamont
Richard Goldstein  Gear
Pamela des Barres  Every Inch of My Love
Don DeLillo  Free of Old Saints and Martyrs
John Lennon  The Ballad of John and Yoko
Jon Savage  Ruined for Life
Robert McG. Thomas, Jr.  Rock and Roll Tragedy
William S. Burroughs and Devo  Fed by Things We Hate
Frank Zappa  Statement to the Senate Commerce Committee
Lynn Hirschberg  Strangelove
Jeffrey Rotter  Our Little Satan

V. PRESENT AT THE CREATION
"The tape is going and that is Bob fucking Dylan over there singing, so this had better be me sitting here playing something."
Doc Pomus  Treatise on the Blues
James Brown with Bruce Tucker  The T.A.M.I. Show
Patti Smith  Rise of the Sacred Monsters
Al Kooper with Ben Edmonds  How Does it Feel?
Jules Siegel  A Teen-age Hymn to God
Joan Didion  Waiting for Morrison
Bill Graham and Robert Greenfield  Woodstock Nation
Michael Lindsay-Hogg  Video Pioneer
Jackson Browne  The Load Out
Nik Cohn  Tribal Rites of the New Saturday Night
Legs McNeil and Gillian McCain  Punk Apostles
Tom McGrath  Integrating MTV
Jason Gross  Licensed to Download

VI. SOUL
"Unless my body reaches a certain temperature,
starts to liquefy, I just don't feel right."
Lucy O'Brien  Girl Groups
Daniel Wolff  A Change is Gonna Come
Patricia Smith  Life According to Motown
Jon Landau  Otis Redding, the King of Them All
Robert Gordon  Dan and Spooner
Jerry Wexler with David Ritz  The Queen of Soul
Gerri Hershey  Soul Men
Roddy Doyle  From 'The Commitments'
David Ritz  What's Going On
Rickey Vincent  The Mothership Connection
Michael Gonzales  My Father Named Me Prince
Greg Tate  Hip-Hop Defined

VII. CRITICS
"In the twentieth century, that's all there is: jazz and rock and roll."
Joe McEwen  Little Willie John
Robert Christgau  Rock Lyrics are Poetry (Maybe)
Paul Williams  All Along the Watchtower
J.R. Young  Reviews of 'After the Goldrush' and 'Live Dead'
Cintra Wilson  Of Cock Rock Kings and Other Dinosaurs
Ellen Sander  Inside the Cages of the Zoo
Dave Hickey  The Delicacy of Rock and Roll
Jeff Gomez  Fanzine
Lester Bangs  Psychotic Reactions and Carburetor Dung

VIII. TRIBUTES
"Because when he was alive he could not walk,
but now he is walking with God."
Lewis Shiner  Saving Jimi
Lester Bangs  Where Were You When Elvis Died?
Yoko Ono  Statement to the Press
Joel Selvin  More than `the Piano Player'
Mikel Gilmore  Kurt Cobain's Road from Nowhere
Phil Spector   Save the Last Dance for Me