Outlaw Journalist, 
a biography
W.W. Norton, 2008
Hunter S. Thompson detonated a two-ton bomb under the staid field of journalism with his magazine pieces and revelatory Fear and Loathing in Las Vegas.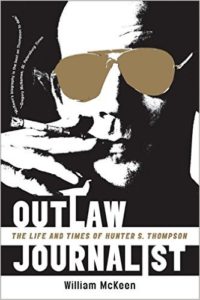 In Outlaw Journalist, the famous inventor of Gonzo journalism is portrayed as never before. Through in-depth interviews with Thompson's associates, William McKeen gets behind the drinking and the drugs to show the man and the writer―one who was happy to be considered an outlaw and for whom the calling of journalism was life.
Thompson was often cited as the favorite writer of people who did not read. His pop-culture caricature overshadowed his immense gifts as a write and social observer.
Outlaw Journalist gives us the real man — behind the mask.
(The above is the publisher's promotional copy about the book.)
What follows is a collection of articles, essays and interviews about Hunter S. Thompson — an excerpt from the book, a review, and several pieces and interviews related to Hunter.
Read  "Truth is Never Told in Daylight," an excerpt from Outlaw Journalist
Read "The Mystery of Hunter S. Thompson," written the morning after his death for the Tampa Bay Times, and adapted to become the preface for Outlaw Journalist.
Read Jonathan Yardley's review of Outlaw Journalist for the Washington Post
Read "The Ultimate Freelancer," the preface for Gonzology.
Read "Gonzo Without End, Amen," the afterword for Fear and Loathing Worldwide.

Read  "Doing Time on the Proud Highway," my 1990 interview with Thompson.

Read  "A Learning Curve," two short essays about Thompson.

Read  "Gonzo Speak," a collection of quotations from Outlaw Journalist

Read "Keep Louisville Gonzo," a piece by Genevieve Walker from Gentlemen's Quarterly.
Read "Fear and Loathing in (the New) Oakland," a piece by Brian Krans in the East Bay Express

Listen to my interview about Hunter for the Common Thread podcast

Link to the HST Books and Totally Gonzo websites, hosted by Irish writers Martin Flynn and Rory Patrick Feehan.

Reviews
"McKeen deftly takes us through the lows and highs…admirable…haunting."—Christopher Hitchens, Sunday Times (London)
"Gets it all in: the boozing and drugging . . . but also the intelligence, the loyalty, the inherent decency." ―Jonathan Yardley, Washington Post (Read the whole review.)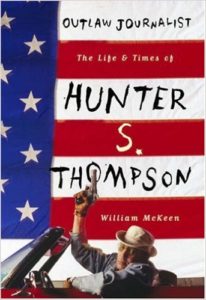 "William McKeen has wonderfully captured Hunter S. Thompson in Outlaw Journalist and in doing so has captured a significant time in our national life. Thompson changed how we think about and practice journalism. McKeen gives us a telling insight into how that happened."—Michael Connelly
"The best record to date of Thompson's life."—Michael Washburn, The New York Observer
"William McKeen's Outlaw Journalist does what a good biography should do: it makes you feel as though you knew the person…. a colorful take on Thompson's extraordinary life."—Charles Gershman, St. Louis Post-Dispatch
"[A]n accessible look at Thompson's personal life and his eternal struggles to earn a living and leave a legacy." —Joel Drucker, San Francisco Chronicle
"There had to be more the Hunter Thompson than we knew. If you've ever wondered what was behind the sunglasses, drugs, and booze, what was beyond the craziness and the midnight motorcycle rides with no helmet, not even lights, here it is."      —Rick Bragg
"Outlaw Journalist is painfully honest—which is good. But listen! Hunter was no Jesus Christ—though by now I reckon is sitting at God's right hand screaming 'More Ice! More Ice!' while Jesus fixes the drinks."—Ralph Steadman
"McKeen gives a clear-eyed, detailed accounting, from Thompson's rebellious youth to his revolutionary writing career….[He] fires another shot for Thompson with Outlaw Journalist."—Sharon Eberson, Pittsburgh Post-Gazette
"Delivers a copiously chronicled account of an extremely lived life. It's the reportorial equivalent of cracking open a fifth of Wild Turkey and sharing it with a grave." —John Hood, The Miami Sun Post
"William McKeen has done it. Outlaw Journalist will be applauded as the seminal biography of the life and literary legacy of the legendary cultural icon, the late Hunter S. Thompson. It is a benchmark unlikely to be surpassed."—Beef Torrey, coeditor, Conversations with Hunter S. Thompson
"[P]aints a vivid, detailed picture of a charismatic and complicated man… The book not only perfectly contextualizes Thompson's writings, it is full of exquisite vignettes which are tantalizing glimpses into the sheer lunacy that was his life."—Tim Arthur, Time Out London
"McKeen has delivered rare, superbly researched insight into one of the most fascinating American writers of the last century—a must-read for those who want to peek under the curtain of Hunter's gonzo mystique and discover what really made this guy tick, like so many of the bombs he set off at his Colorado ranch."
—Tim Dorsey, author of Atomic Lobster
"The most complete and extensive biography of Thompson ever written."—Mike Easterling, Albuquerque Journal
"A definitive biography,"—Frederick Smock, Louisville Courier Journal
"This is the whole story of 'the dead-end loneliness of a man who makes his own rules.'"—Harper's Magazine
"Devote[s] much attention to Thompson's running feud with the journalistic establishment—and his attraction to it."—David Gates, Columbia Journalism Review
"[A] robust, readable, and altogether illuminating biography …. superbly rendered….the best on Thompson to date."—Gregory McNamee, Tampa Bay Times
"Dig[s] deeper than most of his previous biographers to reveal a vital component of Thompson's genius…A welcome addition to the Gonzo library and one of the best starting points for HST novices."—Kirkus Reviews
"[McKeen] has interviewed diligently and deeply among the writer's wide circle. His portrait of the formative early life is as telling as his account of the later descent is depressing."—Desmond Ryan, The Philadelphia Inquirer