I've Just Seen a Face
Appeared  in The Gainesville  Sun, July 6, 2007

I've just seen a face
I can't forget the time or place where we first met.
JOHN LENNON and PAUL McCARTNEY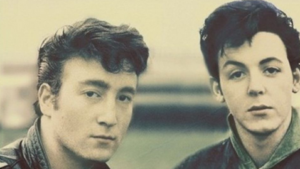 John came downstairs that morning with his hair in a pompadour worthy of Elvis. Aunt Mimi huffed and puffed about his look, but he quickly grabbed his guitar and headed out the door. When she saw him next, Aunt Mimi was transfixed: there was her nephew, the child she'd raised as her own, up there on stage, playing rock'n'roll at the village carnival.
John Lennon was lucky to be there. He was 16 and played with a rag-tag bunch of friends as The Quarry Men. The annual carnival in Woolton Village usually featured brass bands – men in uniforms who reminded the crowd of their victory over fascism a decade before. But this year, 1957, the town fathers decided to have entertainment for teenagers and they hired John and his skiffle band to play. After a "fancy dress" parade and the appearance of the Rose Queen, The Quarry Men took the stage – such as it was – at 4:15 p.m.
As John stood in a truck flatbed in the yard of St. Paul's Church, he saw his Aunt Mimi in the crowd. He improvised a lyric – "Aunt Mimi's coming, she's coming down the path . . ." — in the middle of the song he was signing. He often did that. Words weren't important to him and he could never remember lyrics, so he made up his own. 

He couldn't read Aunt Mimi's expression, but he could tell that the rest of the audience found him delightful. His friend Ivan Vaughan worked his way to the front of the stage, shouldering in with a kid wearing an outrageous white sport coat. John looked down at Ivan and smiled, happy to be the center of attention.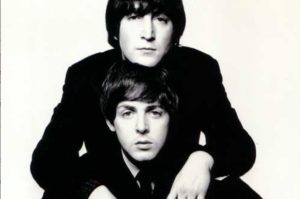 Back in the church hall after the 15-minute performance, John relaxed with his friends, sitting around a table drinking coffee. It had gone all right, he thought. And then Ivan came up, murmuring congratulations and towing the boy in the white jacket. Silver thread woven into the fabric made it appear to sparkle.
"John," Ivan began, "this is Paul McCartney." The new boy carried a guitar – a bit brash, John thought – but he remembered that Ivan had told him about this kid, a wee lad of 15, and what a great guitarist he was supposed to be.
John's eyes narrowed and he offered a wary hello. After a few cursory words, Paul strummed his guitar and began singing: "Well, I got a gal with a record machine . . ."
It was "Twenty Flight Rock," the song by American rockabilly singer Eddie Cochran. John was impressed, not just by the new boy's taste in music but by how well he played, and that he could remember all the words. As soon as that song was done, Paul began Gene Vincent's "Be Bop a Lula."
Gauntlet thrown.
John and The Quarry Men had done that song not 20 minutes before. To himself, John admitted that Paul did it better.
Wheels spun in John's head. He could wait for this Paul bloke to start his own band and perhaps compete with him…or he could get him into The Quarry Men, getting rid of someone else in the band to make room. Paul sang the song perfectly.
He's good, John thought. If they were in the same band, then John could control him. And then think how good we will be, John thought.
John Lennon met Paul McCartney 50 years ago today at the Woolton Village fete in Liverpool. In many ways, the essential bond of their musical partnership was formed that day.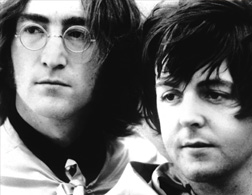 They were both friends and rivals. One provided check on the other. Paul could rein in John's acerbic wit, making his lyrics more palatable. John could add a rough edge to Paul's sentimentality.
Once, Paul was working on a song about a conceited girl who treated her boyfriend cavalierly. He had her sing, "You can buy me golden rings." John vetoed the line. "It's not nasty enough," he said. "How about 'Baby, you can drive my car' ?" And that was it.
Salt and pepper. Lemon and lime. Lennon and McCartney. 
Different, but they worked well together.
Think of the world if they'd never met, or if John hadn't co-opted Paul.
   President Kennedy would still have been assassinated, but we wouldn't have had the Beatles to help mend our broken hearts. The Vietnam War would have still been fought, but the anti-war movement would have lost its soundtrack ("All You Need is Love"). The economy of Great Britain would have suffered, but instead All Things British became touchstones of cultural cool. (Many English artists had tried and failed to crack the American market before the Beatles came along.)
The musical influence of the Beatles magnified that of Elvis Presley. As boys, John, Paul, George Harrison and Ringo Starr were moved to make music because of Elvis. A decade later, they had the same effect on another generation.
If he hadn't heard the Beatles, Bob Dylan might have labored in obscurity as an acoustic artist. Thousands of rock bands, good and bad, would never have been formed and garages would have been used for automobiles, not amplifiers. The Rolling Stones might have stayed an amateur basement-level blues band, never turning toward rock'n'roll. (It would have been merely a hobby for Keith Richards, who would have pursued his original career choice as an accountant.)
The what-if game, for all of its amusements, is pointless. Still, it's interesting to imagine what would have happened if John and Paul didn't meet. It's virtually impossible to conceive of the Sixties without the Beatles, whose effect went far beyond music. Fashion, film, the explosion of pop art, the new definition of "celebrity" – all of it was affected by the Beatles.
Mostly I think about falling in love. For four decades, the Beatles have provided the vocabulary of romance and a couple dozen of the most exquisite love songs since the days of Cole Porter, George and Ira Gershwin and Rodgers and Hammerstein. Although rarely political in the classic sense, the Beatles were nonetheless soldiers in the war against emotional fascism, always speaking of love:
If I fell in love with you, would you promise to be true?
Close your eyes and I'll kiss you, tomorrow I'll miss you…
Something in the way she moves attracts me like no other lover…
So perhaps July 6 ought to be an international holiday. Without The Beatles, the world would have continued to spin on its axis, but with much less joy.
That meeting in the church hall gave us a wonderful era of music, hundreds of beautiful songs, and one of the greatest creative partnerships of the 20th Century.
Fifty years later, John and George are dead, Paul nurses his battered heart and Ringo remains Ringo.
Don't think about that ending; think about that beginning. Take a sad song and make it better. Think about what we would have missed.
 Don't know why you say goodbye, I say hello…