Key West Travel Guide
Good Eats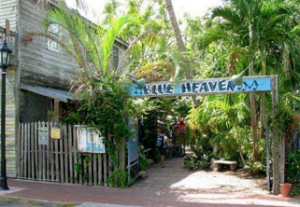 Blue Heaven, 729 Thomas Street,305.296.8666. Absolutely one of the best spots for breakfast on the Earth. Sit outside under the ficus trees and eat a man breakfast while some bad-ass roosters strut their stuff. In the old days, there used to be cockfighting on this site and one sign proclaims "Ernest Hemingway buried his cock here." Now, the place is known mostly for its superb food and atmosphere. A trip to Key West is incomplete without a stop here.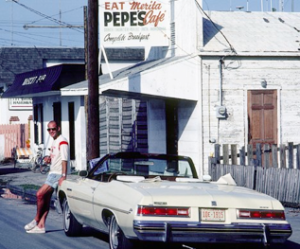 Pepe's Cafe, 806 Caroline Street, 305.294.7192. Hunter S. Thompson considered breakfast a holy ritual and he used to worship each morning (or, in his case, afternoon) at the altar of newspapers, eggs, grapefruit and sausage. During his Key West years, Pepe's was his preferred spot for breakfast. Go have a Gonzo Breakfast. You might want to forego Hunter's usual four Heinekens, though.
Schooner Wharf, 202 William Street, 305.292.3302. For the hearty among you, join the Breakfast Club at Schooner Wharf. There' a full breakfast menus and you can order your first beer at 7 am. Shit, you might even have to wait in line. Get your drink on by nine o'clock and watch the docks awake and smell the sea come alive. Denny's can't compete.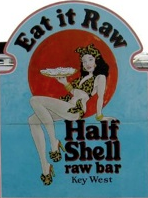 Half Shell Raw Bar, 231 Margaret Street, 305.294.7496. This has always been one of my favorite places — a great open-air bar that serves great beer, oyster po' boys, grouper sandwiches and raw or steamed oysters. It's right on the dock. Fishermen come up, toss their catch on the dock, go clean up and return to find their catch perfectly cooked. The slogan is 'Eat it Raw,' so don't leave until you get the official T-shirt. The Raw Bar plays great rock'n'roll all the time.
B.O.'s Fish Wagon, 801 Caroline Street, 305.294.9272. Best fucking fish sandwich on Earth. Always a special place to me because I did a book signing for Highway 61 there with the blues piano accompaniment of Barry Cuda. This is the closest thing Key West has to a Mississippi juke joint.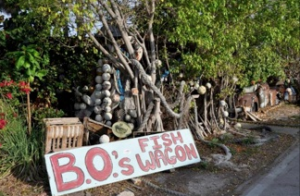 Louie's Backyard, 700 Waddell Street, 305.294.1061. Fine dining and a beautiful view. You don't need to know much more. In fact, it's hard to get a bad meal in Key West, unless you're eating Spam from a can in the Publix parking lot. Louie's also has a lot of historical significance, and it pops up all the time in Mile Marker Zero. Jimmy Buffett used to live next door and for one memorable period, Hunter S. Thompson lived in Buffett's apartment, playing his orgasmic tapes at deafening volume for Louie's diners. Those days are gone, sadly.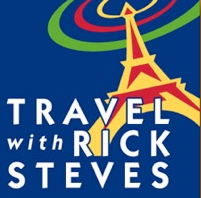 Pillow Talk
The Casa Marina, 1500 Reynolds Street, 888-303-5717. This place has the vibe, the history and the beach. If you've read Mile Marker Zero, you know the role this place played in the town's story. (If you haven't read Mile Marker Zero, what the hell's the problem?) After building this place, Henry Flagler died, his life complete. It remains a swanky resort. The Casa has had many incarnations over the years and was the site of the military encampment — complete with barbed wire on the beach — during the Cuban Missile Crisis.
The Pier House, 1 Duval Street, 305.296.4600. Another fine resort — upscale, they call it, upscale! — that has some of its history recounted in Mile Marker Zero. It's also home to the Chart Room, the bar featured so prominently in the book, and where Jimmy Buffett had his first Key west beer. Thus was history changed.
The Eden House, 1015 Fleming Street, 305.296.6868. I have enjoyed poolside concerts here by John Frinzi, and you should check him out. The Eden House also said nice stuff about Mile Marker Zero on its website when the book was published.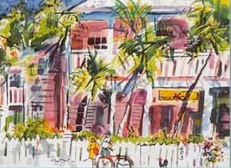 Resistance is futile. Go ahead and take a ride on the Conch Train. Even Key West natives say they learn something about history every time they get on the train. And sure, the Hemingway House and Margaritaville seem like touristy places, but you really should see them. Face it: if you don't live there, you are a tourist.