Bootleg Bob Remains Essential
Appeared in Creative Loafing, October 6, 2008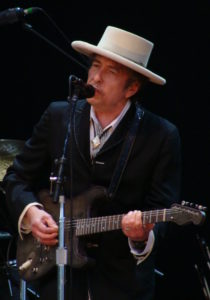 Bootlegging started because of Bob Dylan. During his post-motorcycle-accident seclusion in 1966-67, he recorded home demos and sent them to his music publisher, hoping other artists would record the songs and bring some income into the growing Dylan household.
But bootleggers got hold of the tapes and The Great White Wonder was such widely available contraband that Rolling Stone reviewed it. Dylan eventually gave in, releasing The Basement Tapes in 1975, and seven volumes of "official bootlegs" in the years since. These collections mostly featured live performances, but in Tell Tale Signs, the eighth volume in the series, Dylan re-examines his AARP years.
Most of this collection's 27 tracks are outtakes from 1989's Oh Mercy, in which Dylan whispered all of his vocals, and his 1997 not-dead-yet Time Out of Mind. Both albums were produced by Daniel Lanois, and the 13 songs from those sessions indicate that when a producer pushes Dylan, he comes up with brilliant work.
Notoriously impatient in the studio, Dylan one-takes-it as often as possible. But the two Dylan-Lanois collaborations – and now, these alternate recordings – are some of Dylan's best work. (Not just his best work since the 1960s … some of the best work of his long and glorious career.)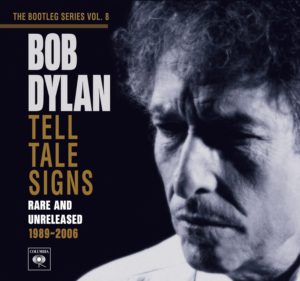 An example: He tried "Mississippi" several times in the Time Out of Mind sessions before finally getting it right on Love and Theft (2001). But the two outtakes here are revelations, variations in tempo and tone that drastically alter the meaning of the song, which is one of Old Bob's masterpieces.
Dylan went into a drought after Oh Mercy and came out of it only after taking himself back to school, recording two albums of traditional folk and blues. His version of Robert Johnson's "32-20 Blues" was inexplicably left in the can, but it's here in all of its spare glory.
In addition to outtakes, the album collects stray songs from soundtracks and tribute albums. The album would have been enhanced if "Red Cadillac and a Black Moustache" from the Sun Records tribute had been included, but we're quibbling now.
For the rich folks out there, Dylan has released a three-disc version with live tracks, more outtakes and yet another variation on "Mississippi." If 100 bucks is out of your range, you can always wait for the bootleg.