Audiobooks
Outlaw Journalist
My biography of Hunter S. Thompson
as an audio book, read by actor Fred Berman.
Everybody Had An Ocean 
My book about the intersection of music and mayhem in 1960s Los Angeles, read by actor Johnny Heller.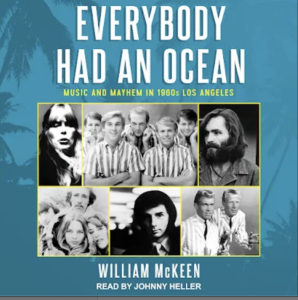 The books and courses (below) available from Audible and other platforms with longform audio content.
From The Modern Scholar Series
Rock'n'Roll and American Society
I deliver 14 lectures on the the early years of rock'n'roll (goes up through the early 1960s)
Stranger Than Fiction
I deliver 14 lectures on the development of literary journalism, on such writers as Hunter S. Thompson, Joan Didion, Terry Southern, George Plimpton, Tom Wolfe and many others.
Video
Tom Wolfe Gets Back to Blood
Oscar Corral's documentary about Wolfe's time in Miami, researching Back to Blood. I appear as a frequent talking head in the film.