Tom Wolfe Gets Back to Blood
Directed by Oscar Corral
Gentleman in the Sun Films, 2012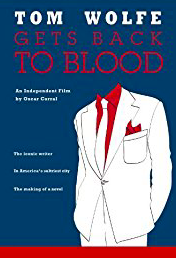 Few men have changed the course of American storytelling in the way that author Tom Wolfe has done. He revolutionized writing in the 1960s with creative non-fiction and new journalism and perfected the reported novel with achievements like The Bonfire of the Vanities.
But Wolfe has remained an elusive literary figure — until now.
This documentary, the only film ever made about Wolfe, chronicles how he conducted his research in Miami for his  novel, Back to Blood. It is not only a peek inside the creative process of a master artist, but a study in how a great American writer has persisted in his craft for half a century.
Tom Wolfe has taken on perhaps the most complex subject of his career, Miami's exotic free-for-all, teeming with immigrants and ambition. This is the story of how Tom Wolfe got Back to Blood.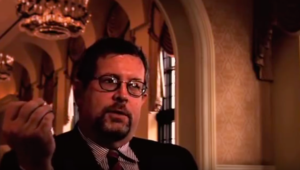 The film was made by my former student, Oscar Corral. Oscar had a distinguished career in journalism and was in Miami when Wolfe came to town and needed a guide to the city's life. Oscar agreed to help, on the condition he be allowed to Wolfe as he worked his way around town, doing interviews and other research. I had squired Wolfe around the University of Florida campus in 2000 (read about that in "The Wolfe Man"), and so I knew what fun it was to watch him at work.
Oscar interviewed me for the film as well.
Click here for the IMDB page on the book. Because of this film appearance, I have an IMDB entry, which is one of the high points of my life. I think IMDB is the main reason we have the Internet.