Literary Journalism: A Reader
Wadsworth, 2000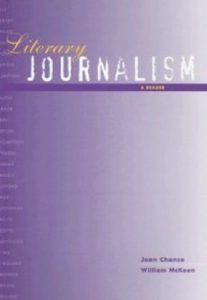 This was another book that grew from a class reader, this one prepared for my literary journalism course.
When Tom Wolfe's The New Journalism went out of print, we went scrambling for a suitable replacement. Finding none, we created our own.
The other half of this "we" was my colleague Jean Chance. We shared teaching duties on our literary journalism courses (undergraduate and graduate versions) and did our best to pull together some of the best writing we could find by some of the greatest journalists of the century.
Here's the table of contents:
I. Prologue: Two Stories of War
Ernie Pyle  The Story of Captain Waskow
John Hersey  The Unforgettable Fire
II. Readings in Literary Journalism, 1960-2000
John Updike   Hub Fans Bid Kid Adieu
Terry Southern   Twirling at Ole Miss
Tom Wolfe   King of the Status Dropouts
Truman Capote  Confession
George Plimpton  Series of Downs
Gay Talese  Frank Sinatra Has a Cold
Norman Mailer   The Theater of Ideas
Michael Herr   Hell Sucks
Joan Didion   A California Dream
Hunter S. Thompson  Chitty and the Boo-Hoo
Nora Ephron  The Littlest Nixon
Gail Sheehy   Redpants and Sugarman
Roger Angell   The Sixth Game
Jessica Mitford   Checks and Balances
Selwyn Raab   A Good Little Girl
Edna Buchanan   Husbands of the Widow Elkin
Randy Shilts   Patient Zero
Maria Vesperi   The Lonesome Death of Hattie Carroll
Leigh Montville  You are Always a Kid
Molly Ivins  Soap Opera City
P.J. O'Rourke   Accepting Chaos
Marie Brenner   I Never Sang for My Mother
Rick Bragg  Prisoners of Age
Nancy Shulins  Tender Mercies