Highway 61, 
a memoir
W.W. Norton, 2003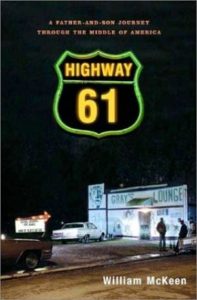 This book was written in the middle of the night, in the shadow of the 2001 terrorist attacks, in a drafty house with my pregnant, sleeping bride upstairs.
Along with the insomnia came the struggle to write something about myself and my family. This was my toughest assignment.
My editor said to give it all to her and so the original manuscript was thick with flashbacks to my divorce, being a long-distance father, and the struggle to remain relevant to my children.
To me, this is a book about family, with the road as metaphor. My editor, Amy Cherry, wisely helped me take a lot of those emotions and leave them between the lines of the highway. I'm happy with this book.
When my son Graham was 18, we took a long road trip together, from where Highway 61 begins in Thunder Bay, Ontario, to where it disappears into the French Quarter. Along the way — often, through the miracle of serendipity — we learned a lot about our country and about each other.
Read  'Standing at the Crossroads,' an excerpt from Highway 61
Read  'A Night With Dick Dale,' an excerpt from Highway 61
Read 'How to Prepare for a Road Trip' from CityLink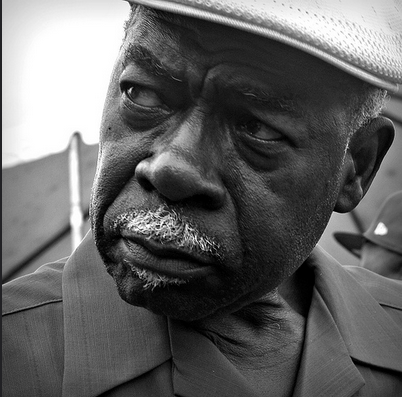 What the Critics Said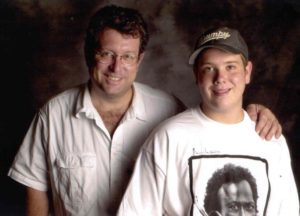 "Move over, Kerouac …. Dad is a rock 'n' roll history professor, and we're going to drive down U.S. Highway 61 from Bob Dylan's home in Hibbing, Minn., to bluesman Robert Johnson's grave in Mississippi? We're going to stop at rock and blues history points in St. Louis, Memphis and all along the Mississippi River down to New Orleans? I'm there. These two seem to find real music — the performed sort and the music of a happily compatible father and son — wherever they go." —The Chicago Tribune
"[F]unny, colorful and heartfelt. [McKeen] crafts a book of narrative power and impressive scope. His set-piece on Memphis club owner Silky Sullivan is masterful, and he offers nicely done roadside vignettes attuned to the pitch of American speech. "—The San Francisco Chronicle
"Armed with boxes of rock CDs and a roadmap, University of Florida journalism professor William McKeen and son Graham embarked on a 6,000-mile road trip down Highway 61, known as the road of blues music. The duo explored the diverse musical roots of middle America. McKeen knows his rock 'n' roll. He teaches a course on the history of rock, has edited an anthology on the genre and has profiled the Beatles and Bob Dylan in his books. It was Dylan's 1965 album Highway 61 Revisited that inspired McKeen to show Graham the musical landmarks along America's dividing line.""There's enough here to satisfy any parent who struggles to connect with adolescent progeny [or who] enjoys a lively account of long, beer-fueled nights some of the most colorful denizens of Memphis, or wonders what really went down that moonless night in Mississippi so many years ago when a young Robert Johnson found himself at a literal and figurative crossroads, face to face with the devil."—USA Today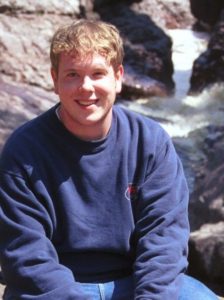 "Father-son memoirs are a dime a dozen; this one, though, separates itself from the pack by looking both inward and outward and finding lots to see in both directions."—Booklist
"(McKeen) writes with comfortable cadence, liberally embellishing his narrative with local history and the lives of musicians he reveres. As a divorced and long-distance father, he views the summer journey as a means to connect with his college student son; fortunately they share a love of blues and rock'n'roll, which provides a unifying theme for the trip. This is a book for music lovers as well as armchair travelers."—Library Journal
"It's a personal celebration of McKeen's three great loves — words, music and his children — and of pricless moments…. Highway 61 might someday do for father-son road trips what Jack Kerouac did for traveling alone and John Steinbeck did for traveling with dogs." —The Courier-Journal (Louisville, Ky.)
"Most refreshing about McKeen's narrative style is his ability to translate intense emotions about fatherhood to the page. Highway 61 is peppered with stirring recollections of his long-departed dad and the kind of bond he wants to maintain with Graham as he becomes an adult. Their closeness intensifies as they progress toward New Orleans; every pit stop is a chance for Graham to learn more about American music from his father. A touching memoir."—The Minneapolis Star Tribune
"Readers will savor the experience long after the journey is over." —The Orlando Sentinel
"(An) inspiring coming-of-age road trip …. This 6,000-mile trek promises a great opportunity for father and son to cement forever the tender bond between them. McKeen provides his son – and readers – with an education in the history of Mississippi River music they will remember long after the rollicking journey on Highway 61 ends."—The St. Louis Post-Dispatch
"William McKeen is my kind of dad …. The journey of parenting includes its own crossroads, along with rocky paths and treacherous curves. Highway 61's biggest success is that it can easily serve as a guidebook, helping other fathers struggling to find their way. Kudos to this graying Dylan afficionado, and to his son, who sees a 6,000-mile trip in his father's car not as hell on wheels, but as an opportunity, as he describes it, 'to breathe a little deeper.'"—The Tampa Bay Times
"A charming memoir. The descriptions of the Mississippi Delta are right on. A good companion for s summer road trip." —The Times-Picayune (New Orleans)