Where have you been,


my blue-eyed son?

Appeared in Creative Loafing, 2009
I
t was Sept. 12, 2001, and New York – along with the rest of the world – was still numb with shock from the terrorist attacks of the day before. America's royal acting couple was at a hushed Manhattan restaurant. Life as we knew it had changed.
Paul Newman and Joanne Woodward ate quietly, until Newman set down his knife and fork, dabbed his mouth with a napkin and stood. Without introduction or explanation, he began singing "The Star-Spangled Banner."
Within a few moments, the other diners stood and sang along with the National Anthem. At the end of the song, Newman bowed, sat and returned to eating dinner with the woman he loved so dearly.
Something about that little story, which appears in Shawn Levy's new biography, Paul Newman: A Life (Harmony, $29.99), perfectly sums up the late actor.
He was a pure product of America, renowned as a philanthropist and citizen as much as for his screen presence. And no matter what he did, we always seemed to trust his judgment and follow him. If you liked Paul Newman – and really, who didn't? – then you will love Levy's biography.
Don't come here looking for dirt. It's not an obsequious, fan-worshipping biography, but Levy obviously likes the man. That's no crime. Reading a biography written by someone who loathes the subject is no fun. Even though Levy never had an interview with the Blue-Eyed One, we still get a rich and full portrait of the guy.
He was a gifted actor, whose skill and ability began to limit his roles. After developing such a strong screen presence over the years in such films as The Hustler, Hud, Cool Hand Luke and Butch Cassidy and the Sundance Kid), it was nearly impossible for the public to accept him as anything other than Paul Newman.
And it's not like that was a bad thing to be. But he was so much more. He was a political activist, but without the smarmy, condescendingyou-stupid-fuckattitude affected by many of today's movie stars / amateur radicals. (Sean Penn, you could learn much from Mr. Newman.)
Even those on the opposite side of the political aisle admired Newman's intelligence and the grace with which he made his points. He was a good and generous citizen, who used his wealth – much of it acquired through his garage-born business in making popcorn and spaghetti sauce– to build camps for children with cancer. Giving these kids some joy in a life that might otherwise not have much was vital to his mission of being Paul Newman. 
He was a race-car driver, but much more than a slumming dilettante from Hollywood. He not only drove, but he partnered in one of the great racing teams
of modern auto sports history.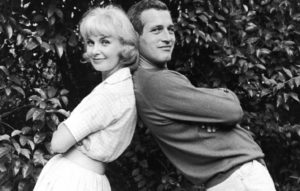 And, of course, he was also a husband. He was so good, he makes the rest of us look like talking pretenders. When Joanne visited him on the set of one of his last films, he lit up when she came near him. He was sitting in his chair, waiting for his next shot, and patted his lap. When she sat down, he snuggled into her neck and said, "Are you still my broad?"
The rest of us might get slapped for using that Rat Pack word, but Newman could carry it off. The great insight in Levy's engrossing book has to do with Newman's marriage. He was always in love with Joanne, always in pursuit, always filled with admiration for his wife – even though he might express himself in somewhat crude terms.
As it turns out, this man who was the most desired man in America, was always fawning after his wife, totally in love with her for the 50 years of their marriage.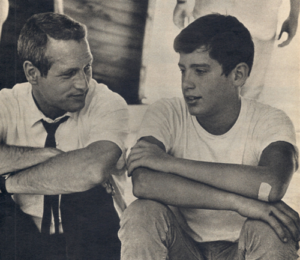 No doubt he could have had any woman he wanted. Apparently, he only wanted one. OK, so maybe we do learn of a couple of indiscretions. They were affairs of opportunity, loneliness and separation. He was forgiven, apparently, after serving appropriate penance.
But even these breaks in the Tiffany case of this perfect marriage make Newman more appealing. When he recognized his error and what a wonderful woman to whom he was married, he did what he needed to do to save his marriage.
And there is also the tragedy-within-the-life of Newman's son, Scott, who dealt with his father's daunting shadow by hiding it and becoming addicted to the drugs that eventually killed him. (Again the good citizen, Newman used his personal tragedy to create The Scott Newman Center, to help educate young people about drug abuse.)