Rock, From the Inside
From the Satellite magazine, January 2005
Must be the season for rock star autobiographies. Bob Dylan's Chronicles, Vol. 1 has even  put this rather suspect literary genre on the upper levels of the New York Times bestseller lists. It's probably going to inspire publishers to go after other elusive high profile rock'n'rollers such as Mick & Keith, Beatle Paul or David Bowie. Good, juicy rock'n'roll tell-alls might displace diet books as non-fiction best-sellers.
Here's a couple of great rock'n'roll memoirs by lower-profile artists: Fito de la Parra of Canned Heat and Chuck Leavell of the Allman Brothers Band and the Rolling Stones' touring band.
OK, so maybe you'd rather hear about the time Mick & Keith were caught in bed together, or what David Bowie is really like …. You'll have to wait to find out that stuff in those other books.
De la Parra and Leavell may not be as well known as those Rock and Roll Hall of Fame members, but they have great stories to tell. And if you care about this music and the life of a working musician on the road, both of these books are fascinating accounts.
Canned Heat came to fame in the late 1960s and is mostly known for its Woodstock appearance, and its two major hits: "Going Up the Country" (sort of the theme in the Woodstock documentary) and "On the Road Again." The band had broken out of the bar-band circuit before hitting it big with its interpretation of electric blues. They recorded with John Lee Hooker and enjoyed modest success for a few years despite a near-revolving door of personnel changes.
That quavering voice behind the two hit songs was guitarist Al Wilson, a man of immense talent, pathologically shy demeanor and a disdain for  conventional hygiene. De la Parra tells a lot of good stories about Wilson – about the groupies who would gag because of his aroma and of the engineers who banned him from recording booths because of his slovenliness – but they are all basted in his great respect for Wilson's talent and the tragedy of his death. A deeply troubled man, Wilson walked out of his backyard one day, laid down on a hill behind his house and decided to die.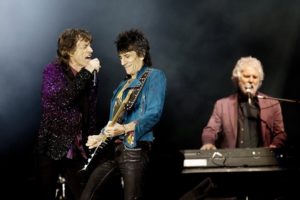 The symbol of Canned Heat in those early years as Bob 'the Bear' Hite, a massive, bearded blues aficionado whose affection for the music kept the band going. The Bear was 300 (plus) pounds of heavenly joy – as the song goes – who kept Canned Heat on the road after its glory years, just by sheer force of will. But when the Bear's heart gave out, the job of keeping this band together fell to de la Parra.
The fact that Canned Heat is still on the road and making records is tribute to de la Parra. Still very popular overseas, the band maintains a steady presence on the bar and club scene and de la Parra comes across as a man just happy to be living his particular American dream. As an immigrant, he offers an added dimension to the story.
Chuck Leavell's story, Between Rock and Home Place, is proof that nice guys can finish first. Another musician-on-the-periphery, Levell stepped into the Allman Brothers Band not long after Duane Allman's death and managed to bind that group together with his great keyboard work. He went on to form a rock-jazz group called Sea Level (after C. Leavell, of course) and was then pressed into service by Mick & Keith as keyboardist and musical director for the Rolling Stones during their corporate-sponsored megatours. His discography will blow you away. In addition to those bands, he's recorded with Gov't Mule, George Harrison, Eric Clapton, Hank Williams Jr., Widespread Panic, Blues Traveler, Charles Mingus, Aretha Franklin,  John Hiatt and Linda Ronstadt.
In between, Leavell established a tree farm in central Georgia and has won conservation awards for his environmental work. He's been happily married for a few decades and has a loving daughter. He's had a blessed life.
The traveling musician's life isn't as glamorous as you might think, so it's a comfort to read these two stories and enjoy their happy endings.
For the record:
Living the Blues
By Fito de la Parra with T.W. and Marlane McGarry
Canned Heat Music, 375 pages, trade paperback, $19,95
Between Rock and a Home Place
By Chuck Leavell with J. Marshall Craig
Mercer University Press, 355 pages, hardcover, 355 pages