You Bet Your Sweet Bippy
From Journalism History, Summer 2001
Now really? A scholarly work on "Rowan and Martin's Laugh-In"? Oh, why not?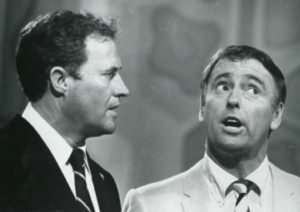 There's no doubt that the show was a breakthrough for television when it appeared in 1968. It incorporated elements that earlier television programs by Steve Allen and Ernie Kovacs had introduced, but "Laugh-In" was the show that put it all together. Kovacs had been among the first comedians to understand and exploit the possibilities of broadcasting – and he was given credit by the "Laugh-In" producers for his pioneering. But his skits were often too cerebral and therefore above the heads of much of the audience. "Laugh-In" was quick and clever, but it seemed perfectly in tune with its audience.
This book examines the lives and careers of hosts Dan Rowan and Dick Martin, along with co-creators George Schlatter, Paul Keyes and Digby Wolfe. The tussle over who gets credit for the "Laugh-In" concept takes up a goodly amount of space. The argument has never been settled.
Assembling the cast that included Goldie Hawn, Lily Tomlin, Ruth Buzzi, Arte Johnson and the others was a coup and the book also offers mini-biographies of those participants as well.
The book is at its best in offering a historical recreation of the genesis of "Laugh-In" and the mammoth role in played in the popular culture of the time. Indeed, the book moves week-by-week through episodes and, in an appendix, offers a listing of the run dates of episodes, with listings of guests stars and key skits.
"Laugh-In" is bested only by "Saturday Night Live" as a generator of pop-culture catch phrases, and reading about "Sock it to me," "Verrrry interesting," and "You bet your sweet bippy" big back a lot of memories to the graying among us.
But what the book lacks is a detail assessment of what it all meant. It's nice to recall this innovative television show and appreciate what it brought into the mass-market arena. Still, we want a longer consideration of what it meant and how it relates to what followed. Topical television comedy, by its nature, becomes disposable. It is therefore a pretty ripe area for study, contemplation and appreciation.
The author is meticulous in his re-creation of the show and he has amassed an impressive collection of detail. The writing is excellent and the book is a delight to read.