Hot, Sexy and Dead
Appeared in Creative Loafing, December 2012
Someone once said that "50 percent of journalism was telling people that 'Lord Jim is dead,' when they didn't know Lord Jim was alive.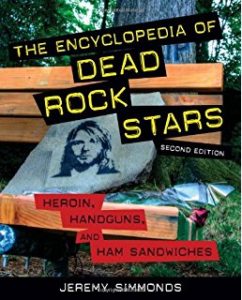 That's sort of the case with this massive new reference book and door stop called The Encyclopedia of Dead Rock Stars by Jeffrey Simmonds.
Sure, all of the rock-star deaths of your youth are here: Buddy Holly, John Lennon, Kurt Cobain. But you'll find enormously detailed and compelling accounts of the demise of a bunch of musicians you never heard of.
Up front, let's put that ham sandwich thing to bed. Simmonds teases to it in his subtitle: "Heroin, Handguns and Ham Sandwiches." This is an obvious nod to one of the more notorious rock deaths of 1974, the expiration of Cass Elliot while she was dining, flat on her back, in bed. A joking remark by the attendant removing her body sprouted the ham-sandwich canard, but she died of heart failure. Food was present in the room but not in her trachea. She had a magnificent voice, but she carried 230 pounds of a 5-foot-5 frame, and eventually something had to give.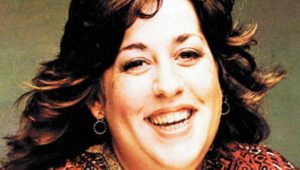 Did you know that Elliot, of the Mamas and the Papas, died in a London apartment owned by singer Harry Nilsson? Four years later, the same apartment was the site of another key rock star death – that of Keith Moon, superhuman drummer of the Who. Moon provided the template for the rock-star life, gobbling amphetamines and chugging vodka by the bottle. But it was a legal drug that killed him. He took 32 pills given him by a doctor to help slow his alcoholism. He came home to the Nilsson flat after a mild evening with Paul McCartney and a screening of "The Buddy Holly Story." His girlfriend found him dead the next afternoon.
Perhaps a bit spooked, Nilsson sold the apartment.
The book is full of detail and debunks a lot of myths, and not just of ham sandwiches. Rick Nelson's death in a plane crash is attributed to  faulty gas heater and not to the former teen idol's freebasing of cocaine.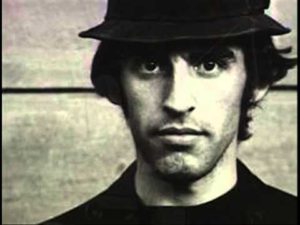 The book gives full, reliable accounts of deaths:
Soul singer Sam Cooke, wearing only his underwear and one shoe, gets shot three times by a motel manager for the crime of banging on her door.
Richard Manuel of the Band, retires to his Winter Park Hotel room after a gig at the Cheek-to-Cheek lounge and hangs himself with his belt in the bathroom.
John Lennon gets shot to death by an asshole.
Johnny Ace, while playing Russian Roulette (or was he?) blows his brains out backstage.
This huge (822 page) book is all encompassing and a bargain at any price. In addition to the usual cast of Rock'n'Rolll Heaven, you'll learn about the demises of Dudu Zulu, Jacob Killer Miller and Doris Kenner-Jackson. Every member of every do-wop group gets his or her due, as do rappers and DJ's.
With so much rock'n'roll and death in one volume, The Encyclopedia of Dead Rock Stars is the epitome of the perfect Christmas gift.