Bob Dylan: A Bio-Bibliography
Greenwood, 1993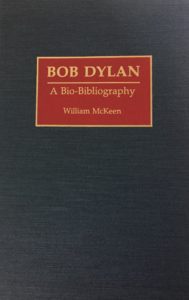 Bob Dylan is an acquired taste. I didn't immediately acquire it, but once I did, I became fascinated with the guy.
I took on the assignment to do this book because I wanted to learn more about him. I discovered that I never tired of listening to him and that the more I listened to him, the more I heard.
This is essentially another reference book in a series about artists. I wanted it to be a reliable biographical source and a complete discography of his work.
Unlike the book on The Beatles, here I was writing about a moving target. Alas, it only goes up through 1993, but I think it's a pretty good reference.
Actually, there have been times when I've been trying to recall something about his life and career. I go to my bookshelf and find my book and usually also find the answer to my question. Life is weird like that.
Read my Dylan appreciation,  "May God Bless and Keep You Always"