All You Need is Munch
Appeared in Creative Loafing, August 2009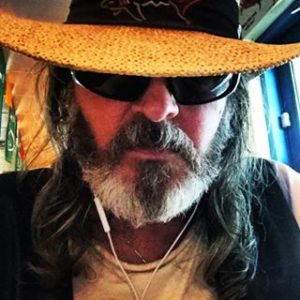 Every morning I leap from bed and sink to my knees and thank God that Bob Dylan never made a video for "Like a Rolling Stone." And good on Mick and Keith for having the sense to not shoot a promo clip for "Satisfaction."
Every time I hear those songs – and I'm sure I'm well into the thousands with both of them – I have different and intense feelings. Think about all the ways we could do with those majestic six minutes of Dylan's rant – was it aimed at someone or was it an internal monologue? Is it aimed at me . . . or her . . . or you?
That's the beauty of music – the stirring melody and words create all kinds of images and associations and allusions.  As one of those who bitches now and then about the paucity of genius in modern music, I have to point to the tyranny of the video. It nails down an image to go with each note and usually those quick-cut mini-movies are so damn literal and insultingly tedious.
It's not that we didn't have visual associations with pre-video music. I remember when I was a child and the way the cellos played on one of my father's favorite records reminded me of ovals of color moving in syncopation. We all have those images that accompany the library of music in our skulls. They're there if we ever hear those songs and want to call on them.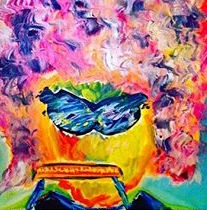 William Munch paints what he hears. He's done art that will convince you he's the second coming of Claude Monet. His impressionistic work beautifully evokes the majesty of the changing seasons and the emotional evolution of the planet.
But the dude also rocks.
Step into his studio and you're likely to hear Hendrix or Led Zeppelin thrashing chords while Munch thrashes the canvas.
Rock'n'roll is fuel for Munch – as it is for thousands of other creators, be they painters, poets or pounders of keys.
But a few years ago, he decided to respond with his art to the way the music makes him feel.
In short, Munch began to rock.
What he's produced are impressionistic versions of rock stars. These are visual interpretations of musicians – not literal-minded insults, like some jejune-bullshit video, but emotional tributes to those who have provided the fuel: Mick Jagger, large-lipped and bawdy; Elvis, aw-shucksy and hopped up on pills; Cobain, dark and depressed; Bob Marley, the embodiment of tri-colored peace.
Sure, these works of art could join Munch's other works on the walls of museums and collectors. Some of them are in the permanent collection of the Seminole Hard Rock Casino – where he had a huge reception and show last October.
But in keeping with the anarchistic and egalitarian nature of the music, Munch's rock portraits adorn T-shirts of the hip. He's created a virtual store to sell the things (www.munchrocks.com) and the colorful blooms decorate the chests of rock fans around the world.  In addition to those we mentioned, his subjects include Bob Dylan, Janis Joplin, Johnny Cash, Jimi Hendrix and Stevie Ray Vaughan.
It's art, it's commerce and it's Munch's way of giving back. This is a thank-you for a lifetime of fuel.
When he made his speech at the Hard Rock last fall, a humbled Munch paid tribute to the music he loved.
"Imagine a world without music," he said. "Imagine a world without art. The wind would have never cried Mary. The jingle-jangle morning would have never followed us. We'd never strive to break on through to the other side. Me and Bobby McGee would have never been busted down in Baton Rouge. The sky would have never cried. We would have never traveled down Thunder Road. Jailhouses would never have rocked. Strawberry fields wouldn't have been together. We wouldn't know to give peace a chance."
Videos? We don't need any stinking videos. We just need the music. We can close our eyes and feel what the music urges us to feel. Munch's wearable art allows us, in a silent way, to repay a debt.