Crazy from the Heat
Portions from Mile Marker Zero: The Moveable Feast of Key West (Crown, 2011)
Much of this selection from Mile Marker Zero was deleted for reasons of length and because the editor thought I'd already made the point that people fucked like monkeys in Key West. The characters here include novelists Tom McGuane and Jim Harrison, painter Russell Chatham, adventurer and French count, Guy de la Valdene, and Dink Bruce, man-about-Key-West. It's the seventies, the most libertine era in Key West's history.
. . . . . . . . . .
WARNING:
Explicit language and offensive situations.
(It's Key West.)
'Sex without love is an empty experience, but
as empty experiences go, it's one of the best.'
WOODY ALLEN
Tom McGuane didn't own the copyright on sport fucking. Maybe it was the times or maybe it was just the heat, but Key West was ground zero for lust and greed and a half dozen other deadly sins.
Looking back at the Twentieth Century, the Sixties are seen as the decade of free, robust and wide-open sex. But the so-called sexual revolution took a half decade to get started. By the Seventies, things were in full flower. It was the peak of fucking history.
A knock on the door to borrow a cup of sugar might bring an unexpected result.
"Sorry it took me so long to answer," you'd say. "I was in the shower."
Fetching smile. "Want some company?"
Only in the Seventies!
Near closing, a woman walks into the Green Parrot and points at the bartender. "You! Let's go to your apartment."
"Actually," the bartender says, "I don't have an apartment. It's a house."
The woman scowls. "You want to fuck or not?"
"The house it is," he says.
Only in the Seventies!
So there was stand-up fucking behind the shelves in Key West Island Books, screwing on the grass in Bay View Park, fucking against the sea wall; blowjobs on the park bench by the courthouse, blowjobs in the front row of the Strand, cunnilingus by the Pier House pool, finger fucking on the Afterdeck at Louie's Backyard. Everywhere, people did the Bone Island Mambo. The girls lavished their bodies on the world and men followed in their wake, panting nearly, so horny they would copulate with a wallet.
Lust made people crazy. In those days before digital cameras, couples relied on Polaroids: Here you go, Baby, she'd say. Take pictures when you cum on my face and carry them in your wallet.
Occasionally there'd be howls and snorts of outrage and some self-appointed moral crusader would go all Elmer Gantry about the depravity, but the townspeople shrugged it off. Deep within the town's marrow was that live-and-let-live that island people have that's found in greater quantities in Key West than in any other place on Earth.
Even James Michener got into the act. The prolific (and best-selling) novelist was known for writing 800-page doorstops with one-word titles (Hawaii, Iberia, Texas) that ended up on four-fifths of American coffee tables. Those hernia books used the kitchen-sink approach, often talking about geology and creation and fossils before even getting to the human characters.
In the Seventies, while living in the Keys, he cast aside the epic-blockbuster approach and wrote a wafer-thin little novel of naked sexual aggression. Matecumbe (named for one of the Upper Keys) wasn't published until years after his death and drew little attention then. But it showed the effect the islands had on otherwise sane people: In Spain, Hawaii, Texas – wherever he wrote and researched his massive books – Michener was a diligent worker bee, a scholarly drudge writing about the geology of a place, then, centuries later, putting his characters in that locale to tell some epic story. But when the best-seller-writing machine came to the Keys, all he could do was write about beach-blanket fucking. When Matecumbe was finally published it was a little disarming to read the genial geezer's writing about sex. It was like discovering that grandpa's into porn.
From the time of the pirates – and probably before – Key West had brought out the animal in people, turning men and women into crazed, sweaty creatures making the beast with two backs.
It was a legacy of island life.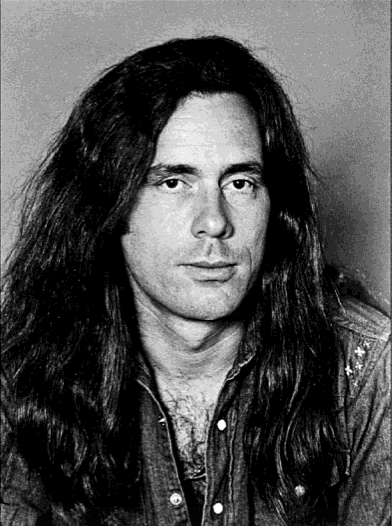 Back in Montana, which is where Tom McGuane had established the northern branch of his Key West gang, Russell Chatham was a serious artist, painting massive landscapes that managed to reflect the exacting beauty and astonishing light of Paradise Valley. But when he hit the streets in Key West – usually on a pilgrimage to McGuane's with Jim Harrison – Chatham was a churning urn of sexual funk.
In the early days, Chatham and Harrison bunked at McGuane's house, staying out all night and coming in when McGuane was rising for his day of fishing and writing. The vacations were exhausting because of the non-stop partying-and-angling schedule that Chatham in particular maintained.
Chatham's later visits were often in the company of Guy de la Valdene. He was wealthy, so he usually foot the bill.
Chatham and Harrison were dedicated artists, which meant they were poor. They had to have some scheme to make the Keys trips possible.
"Jim bullshitted Sports Illustrated into giving him an assignment," Chatham recalled. "I kind of got on that thing too. The first three or four stories I ever wrote I sold to Field and Stream and a half a dozen others to little magazines – Saltwater Sportsman and stuff – but the first story I ever submitted to Sports Illustrated, they bought. I was at the fuckin' top of the heap the first time out. The way it worked was if you gave them an idea and they okayed the idea, then you were on an expense account. You went where you were going to go and you did what you were going to do and they paid all the expenses. And if you turned the story in and they didn't like it, they rejected it. But they still paid your expenses. How could you fuckin' lose?"
The freelance assignments were more important, however, for underwriting playtime for the Boys.
It was a simple plan. "You could fly to Key West for a few hundred bucks," Chatham said, "and once we were there, Guy paid for the house and for the food and everything. He'd rent a house with a swimming pool. Fuck, it was luxurious. We had to have some place for the girls to get naked."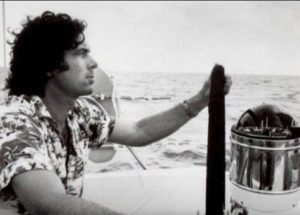 And disrobing was the first step in the objective. In terms of getting women naked, the Picasso of the form was Dink Bruce.
Everyone in town knew Dink Bruce. His father had been a great pal of Ernest Hemingway's, so McGuane and other writers sought him out for stories of his childhood and what Uncle Ernest was like in private life.
Bruce recalled that when he was assigned in high school to write a paper on the "true meaning" of The Old Man and the Sea, he went home and asked a visiting house guest for help.
"Well, Dink," Hemingway began. "I took the Pilar out to go fishing. And I knew this man in Cuba who went fishing and lost his big catch to the sharks. That's what it's about."
Bruce delivered his report to his teacher, who told him he obviously knew nothing about Hemingway and his work.
On the surface a quiet and unassuming man, Bruce was nonetheless masterful and getting women to take of their clothes in his presence. The secret was his boat.
"I just tell women if they want to ride on my boat, clothing is not allowed," Bruce said.
Bruce seemed to cross paths with every celebrity who came through Key West. He didn't seek them out; they found him. In Key West, Dink Bruce was royalty.
One celebrity who befriended Bruce was Pulitzer Prize winning editorial cartoonist Jeff MacNelly, who paid tribute to Bruce's gift with a painting. It showed Dink Bruce, hand steady on the tiller as he cruises the flats, surrounded with exotic and fantastically large-breasted naked women. MacNelly gave Bruce the original, but there are prints all over town, including one over the urinal at the Key West Yacht Club.
Chatham also seemed to have a sort of Vulcan mind meld when it came to women and getting them unclothed.
"The locale suggests promiscuity," Chatham said of Key West. "It's almost like it's an unwritten flashing sign: If you're here, be prepared to get undressed. There was shit that went down that you couldn't get away with any other place in America – Los Angeles, San Francisco, I don't give a shit where."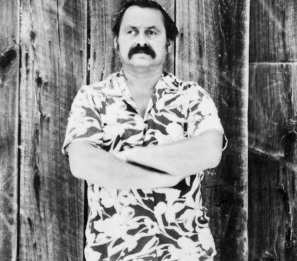 Jim Harrison's publisher was Seymour Lawrence, who had been so successful as an editor that he had his own imprint – Seymour Lawrence / Delacorte Press. Sam Lawrence (as he was known to friends) was the model of a respected and successful book publisher, until he hit the streets of Key West with Chatham, once called by Hunter S. Thompson "one of the greatest pussyhounds of his generation."
"Sam was a straight guy – when he got there," Chatham said. "Then we went out to dinner and there was this girl there and she was a fuckin' knockout. We were all looking at her, thinking, 'What's the deal here?' We got done with dinner and Sam had his eye on her. At that time the gay scene had really ratcheted up. It was an outrageous scene those guys had.
"So we ended up in some bar that was a gay bar and there were hundreds of people – noise and lights and shit. This girl looked like a regular, normal girl. She wasn't dressed up like a hooker with lots of makeup. I'm standing there, at the bar, looking at her, and I put my arms around her, put my hands on her ass. She got this funny, weird look in her eyes. I picked her up and sat her up on the bar. I leaned her back, so her head's over by the bartender. People just crowded in on us. I pulled up her dress and she doesn't have any underwear on, and I start eating her pussy. All this while the bartenders are feeding her drinks. And I'm thinking, 'This is what I came here for.' "
The crowd at the bar cheered Chatham's performance with the girl, but then it was time to leave.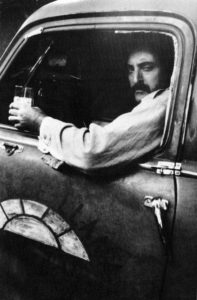 "We went over to Buffett's house afterwards," Chatham said, "and Sam thought she was his girlfriend and I said, 'I don't think she's your girlfriend, Sam.' He actually offered her a lot of money to marry him."
Later during that stay, Chatham and Valdene got the girl to come over to their house.
Once inside, she said, "I'm going to fuck both of you guys."
Music to the ears.
They moved toward the bedroom, but before the essential parts were exposed, the girl startled Chatham and Valdene.
"I want you to stretch me," she said.
Chatham didn't understand at first. "What do you mean – stretch you?"
She outlined the procedure with the precision of a personal trainer.
"One of you guys get hold of my feet and the other one get hold of my hands and pull as hard as you can."
"Why?" Chatham asked.
"Just because that's what I want you to do."
By this time, Valdene was laughing uncontrollably.
Chatham said, "What we would rather do is fuck you."
She said, "Oh, that's fine too. If you stretch me, that's okay."
And it was.
It was the tropics, Chatham said. That's what made him crazy with lust. If it weren't for the fishing and the friends, he'd rather be back in Montana, no matter what the weather there. He was the dedicated artist in Montana, the loving father of a number of fine children with former wives. He was social and socially conscious – back in Montana.
But in Key West, he was a man in passion, riding a mad horse.
It was the heat. He remembered one Florida visit when he'd hit a dry spell. Luckily, Valdene's wife, Terri, had a friend Chatham had seen and thought might help him in his time of need.
"She was as black as the fuckin' sky, six-foot-one or something like that," Chatham recalled.
Valdene asked his wife. "Terri, Russell would like to get laid. You think that friend of yours would come over and fuck him?"
Terri Valdene thought for a moment and finally said, "I think so."
So Terri Valdene placed the call and made the arrangements. The woman agreed to come over immediately. As it happened, the Valdenes had a houseful of guests.
"So we're sitting around the living room with all of these people, fuckin' straight arrows," Chatham said. "There's a knock on the door, and she walks into the living room. And she's got on a kind of African long silk dress and like an Arabian thing on the top of her head and she is a knockout. And I just looked at her and said, 'Holy fuckin' shit.' She walks over to me, grabs my hand and says, 'We are going to fuck now.'"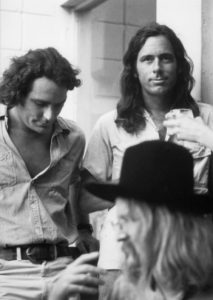 The guests were stunned, and Guy and Terri Valdene were terribly amused. Jim Harrison, also there that night, was fascinated.
"We go out to the pool house," Chatham said. "Harrison told me later he tried to sneak out there and watch us through the window. The curtain was too thick and besides that, he said, it was so dark in there that she disappeared – she was that black. They only thing you could see was the whites of her eyes. When she smiled, you could see her teeth. I would say that on this planet, that's the greatest piece of ass I ever had. She was friendly, she was spirited and there wasn't any downside to it. She was happy. It was just so fucking exotic, to be holding this woman and sweating like a pig, because it was hot. The air conditioning's on and it was our fantasy of maximum proportions. It was off the chart."
Chatham was such a sexual connoisseur and often so wildly successful with women that when he suffered that occasional dry spell, the whole town seemed to be aware of it, adjusting to the shifting deck of Chatham's carnal steerage. Once, the gulf between Chatham and his last sexual encounter was on the verge of becoming a sea of discontent and agony.
"We'd been there about a week," Chatham recalled of this particular visit, "and for some reason, I wasn't getting laid. I was getting hysterical. When you're desperate you're fucked, because it shows, and then nothing's going to happen."
The more needy Chatham appeared, the more he needed to get his confidence back. Like a masterful slugger in the abyss of a terrible slump, he couldn't think how he could get out of it. At his more paranoid moments, he wondered if the women of Key West were engaged in a conspiracy to frustrate him by staging a fuck strike.
Chatham was distraught. "What am I going to do?" he asked Dink Bruce.
Then, as he looked into his friend's kind face, he saw the answer.
Bruce was helpful to a fault, a guy who could make things happen. He was skilled, talented and knew everybody and everything. His father had helped Hemingway and they were great friends. Now, Chatham decided, it was time for Bruce to lend his special expertise to the new generation of artists in Key West.
"Here's what needs to happen," Chatham told Bruce. "We need a really good whore."
Bruce didn't associate with prostitutes. The women who disrobed for him so readily on his boat were amateurs, not professionals.
"I don't know any," Bruce shrugged. But then the light bulb went off over his head. He did know the best lawyer in town, Jack Spottswood. "Jack defends a lot of these girls when they're in trouble," Bruce told Chatham.
Bruce called up Spottswood and asked him straight out. "I have a friend who needs to get laid," Bruce said. "Who's the best whore?'
Spottswood said, "Hands down, it's Elena."
So Bruce arranged it and called Chatham. "Go to the house at two o'clock," he told him.
"So I'm waiting there," Chatham recalled fondly, "and this girl rides up on a bicycle. And she's blonde with fuckin' unbelievable tits."
The girl got off the bike, tethered it to the post and smiled, introducing herself.
"Hi, I'm Elena," she said. "We'll fuck in a minute, but let me jump into the pool and cool off."
She undressed in front of Chatham, dove into the pool and swam back and forth a couple of times, then got out.
What followed became a major feature of Chatham's sexual highlight reel.
"We start fuckin' and it was just unbelievable," he said. "From that minute on, she was my girlfriend. She was a fuckin' whore's whore. She just loved it."
Back in Montana after a Key West trip, Chatham would resume his normal life as a serious artist, but that didn't mean he didn't find himself thinking about the island town.
"It was a world so different from my normal world," he said. "It's the tropics. I hate heat. I hate humidity. And what that does is, it creates a lifestyle that's just not like anyplace else. You could feel it in the air: this was a place where people didn't wear very many clothes. You knew that at any second, the girl sitting next to you would fuck you. That doesn't happen in anybody's normal life. Try doing something like that somewhere else and you're going to take a fuckin' left hook to the face."
Later in his life, he entered into a long and deeply satisfying relationship with a woman in Livingston. She knew about Chatham's trips to Key West and often asked him to take her. For their 16 years together, she'd ask and he 'd refuse.
"I loved her," he explained. That was the reason he couldn't take her to Key West. There would be too many temptations, too many opportunities to be unfaithful. "Why else would you want to go to Key West, except to get laid?"
Copyright © 2011, 2020 William McKeen