Orange Journalism: Voices from Florida Newspapers
Edited by Julian M. Pleasants
University Press of Florida, 2003
This was an oral history of Florida journalism compiled by a colleague in the history department at the University of Florida, Julian Pleasants. He is what his name implies.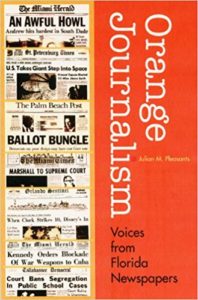 I'd begun assigning students in my History of Journalism class at Florida to interview journalists for a class project. I compiled a file drawer of interviews and hoped to do something with them — like maybe get them published.
I talked about this and finally, Professor Pleasants, who then ran the Proctor Oral History Project at the University. Only one interview from my student file survived: Kelley Benham's interview with Rick Bragg of the New York Times, who'd made a mark on the state during his tenure at the St. Petersburg Times. My colleagues Ralph Lowenstein each did an interview, and I interviewed David Lawrence of the Miami Herald. Julian did the rest.
The book includes interviews with — in addition to the above — Carl Hiaasen, Diane McFarlin, Al Neubarth, Lucy Morgan, Don Wright and many others.