Pilgrim in the Land of Alligators
By Jeff Klinkenberg
Introduction by William McKeen
University Press of Florida, 2008
Pilgrim in the Land of Alligators is a collection of columns by Jeff Klinkenberg, a longtime and beloved columnist for the St. Petersburg Times (now the Tampa Bay Times).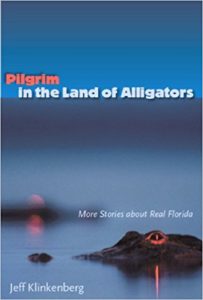 Klinkenberg chronicled the disappearing Florida and its people and some of his columns are masterpieces of concision and insight.
I was flattered that he asked me to write the introduction to this collection. It appears below.
Klinkenerg's other collections include Real Florida, Seasons of Real Florida and Alligators in B-Flat.
As will soon be obvious, I wrote this while serving as chairman of the University of Florida Department of Journalism. I hired Klinkenberg to teach a feature writing class and the students are still rhapsodic about what they learned.