Biographical Dictionary
of American Journalism
Edited by Joseph McKerns
Greenwood, 1989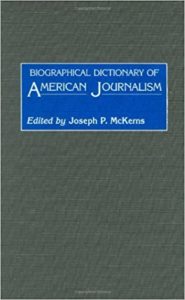 This is one of those encyclopedia free-for-alls to which a lot of academics contribute. I wrote entries on some of my favorites: George Horace Lorimer, Josiah Flynt, Philip Graham, Jacob Riis and I.F. Stone.
Here's what the publisher said about the book:
This comprehensive reference offers nearly 500 biographical sketches, with bibliography, of significant journalists in American history, past and present, living and dead. Its subjects are drawn from the major mass media, including newspapers, radio, television, magazines, and film, and it provides a thorough representation of the various subfields of American journalism, such as reporters, editors, columnists, humorists, editorial cartoonists, illustrators, photographers, commentators, all types of correspondents, and sports journalists. Unlike similar volumes, this dictionary goes beyond the mainstream media to draw upon significant figures from the feminist and suffragist press, and the black press, and traces the development of American journalism from its beginning in Boston in 1690 to present global broadcast networks. The biographical sketches present perspectives on the lives of the people who help develop the big city and small city newspaper press, the regional press, the frontier press, the early radio and television news, and the radical and dissident press. Arranged alphabetically, each sketch includes a useful bibliography for further reference, and there is a general index as well as an appendix that lists the subjects according to media, professional fields and other categories.
The broad scope of this valuable sourcebook will make it an indispensable aid in the fields of journalism and communications, and a useful addition to university and college libraries, metropolitan newspapers, national and local magazines, and broadcast networks and local stations in large cities.