Memoirs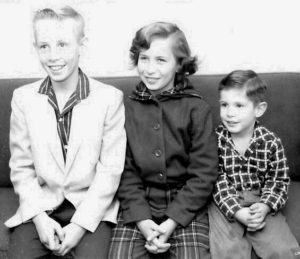 "Arsenal" is a piece reconstructed from memory and from interviews with my family. It appears in Homegrown in Florida as a short story.
"Conversation at Dinner" is a short piece about my children from Too Old to Die Young.
"Father of Seven" recounts my adventures in parenting.
"Life on the Death Beat" is a memoir that turns into a book review.
"Sleepless Nights" is a short recollection of life as an insomniac. This was part of a proposal for a book that I did not pursue and is therefore unpublished until now.
"Standing at the Crossroads" is adapted from my memoir Highway 61.
"There's Something About Margaret" recounts the role of serendipity in writing and research, from Margaret A. Harrell's book, The Hell's Angels Letters.
"Thoughts on a Horny Poodle" recounts our family's 1965 cross-country drive and is also part of the introduction to Rock and Roll is Here to Stay.
"Why Chuck Wouldn't Get Out of the Car" originally appeared in Homegrown in Florida and can be considered either a memoir or a short story.
"The Wolfe Man" is a short memoir of Tom Wolfe, from Too Old to Die Young