What's Going On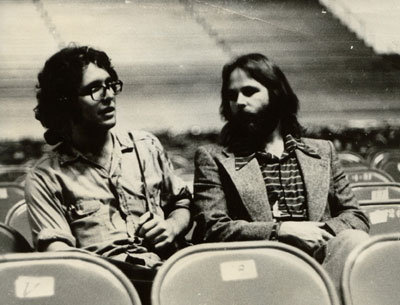 "Expert textpert choking smokers…"
Appearances in news stories as an 'expert' on stuff:

The New York Times: Rolling Stone Stays Focused as Defamation Trial Is Set to Begin
Uproxx: Stories of the iconic 'Johnny B. Goode' Scene in 'Back to the Future'
The Christian Science Monitor: Google Removes Author Information from Search Results
The Register Mail: Was JFK's Assassination a Watershed Moment in the Redefining of Journalism?
CNN: Journalism Jobs are Picking Up
The Sarasota Herald Tribune: What if 'In Cold Blood' Got it Wrong?
Surf's Up at the Bookstore
Everybody Had an Ocean, won't be officially published until April 1, but friends have been sending me pictures of their copies, so the mail-order pre-publication copies are out there. What's wrong with you? Get with the program! You can order the book through IndieBound, a community of independent bookstores. You can get it at all the usual places, of course. In fact, it would be a great favor if you would go into your local bookstore several times a day — in disguise, if need be — and request the book. Be a pain in the ass. But remember, the best publicity is word of mouth.
Did I mention that I have seven children and I promised them that if I sold enough books we could go back to three meals a day?
I wrote this book while undergoing cancer treatment and was able to put together a story I'd wanted to write for a long time — 30 years, at least. I interviewed all of the Beach Boys — except Brian Wilson — several times during the early 1970s. That was one of Brian's lowest points and he did not appear in concert.
Beyond the Beach Boys, the book has an impressive cast of characters, including Michelle Phillips and Cass Elliot of the Mamas and the Papas, Charles Manson, Neil Young, Joni Mitchell, Sam Cooke, Tina Turner, Bobby Fuller, Phil Spector and an buttload of others. It's a history of Los Angeles rock'n'roll in the 1960s, with a focus on the crossroads of the music business and crime.
I'm very happy with the result. I hope you will be too.
Surgery City, Here We Come!
(Continuing our surf-music theme.)
After two years of treatment and a near residency at Dana Farber Cancer Institute, I'm cancer-free. However, I'm having another operation this spring — that makes 10 surgeries in two years and change — but this is not cancer-related, and it will help me avoid three other surgeries.
I'm actually looking forward to this, even though it means a liquid diet for two weeks and meals of protein shakes and air and lawn clippings.
Through all of this poking and prodding and gouging and cutting, I'm very lucky to have care of such high quality. I discovered that the most important thing about cancer care — other than the operations and treatments, of course — is attitude.
When I first got the diagnosis, I began thinking about death and what would happen in the post-Bill world. Then I decided, Fuck it if I can't take a joke. In fact, I turned the whole thing into a joke with the kids. I didn't want them to worry. If they saw Dad joking about it, then maybe they wouldn't worry — and largely they didn't.
The attitude of the technicians, physicians and nurses also helped. For two months, I rose early and drove to my radiation appointments at 8 am. For 20 minutes, four kind young women aimed powerful instruments of radiation at my naked midsection. When treatment ended, they showered me with confetti and gave me a diploma. Things like that kept up my spirits.
Yip yip yip yip yip yip yip yip
Mum mum mum mum mum mum
Get a job
I've got one. Actually, I have two. I continue to do double duty as chairman of the journalism department and associate dean for the College of Communication at Boston University.
So far, the associate dean job has been fun, because it gets me out of the college for meetings several times a week. I have gotten to know a lot of people in other departments and in the provost's office (which has become like a second — or third — home). My interim year ends on June 30.
As always, I look forward to teaching. When the semester isn't in session, I feel like a nuclear power plant that's been shut down.
2017 marks my 40th year as a college teacher and I've never gotten tired of it. I've never even had a sabbatical.
For the spring semester, I'm teaching History and Principles of Journalism, which is my favorite course. I first taught it in Fall 1977. It was fun then; it's even more fun now.
I taught at Western Kentucky University 1977-1982, at the University of Oklahoma 1982-1986, at the University of Florida, 1986-2010 and at Boston University since 2010.
If you were in one of my classes, I'd love to hear from you at wmckeen@bu.edu. I keep up with a lot of former students on Facebook, which I use as a sort of illustrated Rolodex of my life. It's good to see how everyone's doing.
Take care.