The Beatles: A Bio-Bibliography
Greenwood, 1989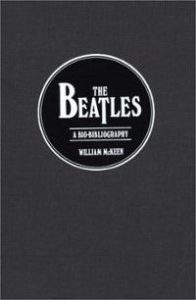 Out of the blue, I was asked to write this semi-scholarly book on the Beatles.
It ended up being the first of four such books for me and it made it clear that the line between work and pleasure could easily be erased.
Nearly three-quarters of the free world has published books on the Beatles, of course, but this was supposed to be some all-in-one biography-and-reference whoop-te-do. It was fun to do, but also a lot of work.
During the two years I worked on this, I began hosting parties for my students in which they were asked to come dressed as a Beatles song. One guy came swaddled in goose feathers ("I'm Down") and another one came with a smiley face with a bar through it ("I'll Cry Instead"). My girlfriend at the time had a great, minimalist costume: A "hello my name is" tag with McGill, crossed out and replaced by Lil, crossed out and replaced by Nancy ("Rocky Raccoon").
Those parties grew so monstrous and messy that I ended up making it into Playboy as one of America's "Eight Most-Fun Professors."
Anyway . . . the Beatles: a damn fine band.
Read an account of the meeting of John and Paul,  "I've Just Seen a Face."