Hunter S. Thompson, 
a critical biography
Twayne, 1991
This was the first book on Hunter and I've gotten weekly requests for it for more than two decades now. It's long out of print but it's not so hard to track down online.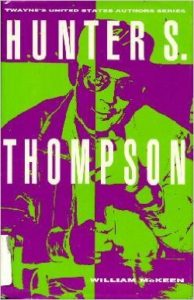 Writing Outlaw Journalist was a pleasure, because it many ways it allowed me to update and correct this earlier book, as well as create something new.
Hunter apparently liked this book, which means a lot to me. He wrote me a note: "McKeen, you shit-eating freak. I warned you not to write that vicious trash about me. Now you'd better get fitted for a black eyepatch in case one of yours gets gouged out by a bushy-haired stranger in a dimly-lit parking lot. How fast can you learn Braille? You are scum. HST." His assistant translated the letter for me: "That's just his way of saying that he liked it."
I reproduce the letter below. It shows up online now and then in listicles of "20 Cruel Rejection Letters; You Won't Believe Number 7." I think anyone who regards this as a rejection letter didn't know much about Hunter Thompson.
During the time I worked on Outlaw Journalist, I learned that Hunter used my interview questions to jump-start him on writing sections of Songs of the Doomed. He reprinted portions of the interview in Kingdom of Fear and the whole thing is available in Conversations with Hunter S. Thompson, edited by Beef Torrey and Kevin Simonson.
Read  "Truth is Never Told in Daylight," a review of Thompson's presidential campaign coverage.
Read  "Doing Time on the Proud Highway," my 1990 interview with Hunter S. Thompson
Hunter's reaction to the book