The Accidental Author
From the Tampa Bay Times, December 10, 2006
Accidents do happen – and sometimes that's a good thing.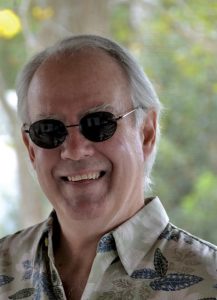 After his career in the Navy ended, Tom Corcoran ended up in Key West – quite by accident – and thus began his odd second career. Throughout his time in Key West, the accidents kept on coming: writing songs with Jimmy Buffett, drafting screenplays with Hunter Thompson and gathering the life experiences that led him to become a novelist.
Corcoran is creator of one of the most intriguing sleuths in a crowded field of fictional Florida detectives. Alex Rutledge is a photographer who – quite by accident – gets involved in solving crimes. "At first, Alex was a whole lot of things I wish I had been," Corcoran says. "I had to draw off of something and what I had experienced. But now, Alex has managed to grow his own life and be his own character and not me."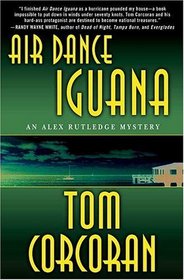 Rutledge's latest adventure, Air Dance Iguana, was published in paperback in October, and once Corcoran finishes juggling some other projects, he'll write the sixth Rutledge mystery for St. Martin's Press. (The previous books are The Mango Opera, Gumbo Limbo, Bone Island Mambo and Octopus Alibi.)
Rutledge has a lot in common with his creator, aside from being accident prone. Like Rutledge, Corcoran is a skilled photographer; his work is featured in the book Gonzo, a life in pictures of Thompson that sells for $300.
Corcoran's profusely illustrated Buffett calendar is an annual event for legions of Parrotheads, who buy it from the singer's Web site. Corcoran co-wrote "Fins" and "Cuban Crime of Passion" with Buffett and traveled with the musician for years, on tour buses and sailboats, and has hundreds of pictures and stories. He recently collected some of these in a small book called Jimmy Buffett: The Key West Years.
"Really, it's a booklet," Corcoran says, "but the Parrotheads and Key West visitors are loving it, and that's gratifying. It's a book I've had in my mind for 10 years, and I finally found a few months to write it."
The Rutledge mysteries led to Corcoran's latest fictional venture. He is one of 16 writers who contributed short stories to Miami Noir, which reveals the criminal underbelly of South Florida. It's part of a series devoted to crime fiction set in various American cities.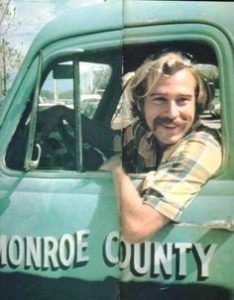 "I was surprised to be asked to contribute," Corcoran says. "Now I'm honored to be in such fine company. Fourteen of us signed copies for a huge crowd – a long line – at the Miami Book Fair. For about 55 minutes, I felt like a big deal."
Corcoran's writing career, though a long time in coming, was no accident. He always knew he wanted to write. After earning his degree from Miami of Ohio, he set out to experience life as a sailor, travel counselor, taco vendor and bartender, among other things. He met Buffett, young and unknown, when he served the future star his first Key West beer in the early 1970s.
He got to know Thompson when the father of gonzo retreated south in the late 1970s, during a messy divorce. They collaborated on an unproduced screenplay about drug smuggling, and Corcoran learned a great deal about storytelling from Thompson and the other writers who spent time in Key West during those years: Thomas McGuane, Jim Harrison and Tennessee Williams.
"I always liked to mess around with words and knew that someday I wanted to write a book," he says. "I thought about it first in high school. I remember one night thinking it all through, what it would be like to be a writer. I must have been 15 or 16."
He found his inspiration in Key West and lived there for many years, but has lived in Lakeland in recent years and spends part of most weekends playing tourist in the Tampa Bay area.
"From Safety Harbor to Hyde Park to Siesta Key, I can get in the car and wander and come home with loads of new ideas for writing the novel in progress," Corcoran says. "Of course, I do plenty of 'research' in the Keys, too."