The Encyclopedia of American Humorists
Edited by Steven Gale
Garland, 1988
I was delighted to be asked to contribute to this book, because it allowed me to write about Terry Southern, Mike Royko, Bennett Cerf and John Kennedy Toole.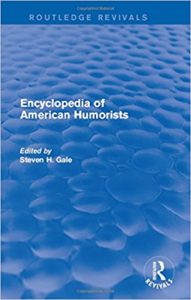 The book was published in 1988 and has been revised and is now published under the Routledge imprint. It's still possible to find the original online, but the link will take you to the page for the revised edition.
Here's what the publisher says about the book:
"First published in 1988, this book contains entries on famous American Humorists. Humor has been present in American literature, from the beginning, and has developed characteristics that reflect the American character, both regional and national. Although American literature was, in the past, treated as inferior to British literature, there has always been a large popular audience for the genre, which this book shows.
"The figures with entries in this encyclopedia not only amuse in their writing, but also aim to enlighten- setting out to expose the foibles and foolishness of society and the individuals who compose it. It is the manner in which these authors try to accomplish this end that determines whether they appear in the volume. Indeed, the book will demonstrate that the best humor has at its base, a ready understanding of human nature."