Too Old to Die Young, 
a collection
Dredger's Lane, 2015 [eBook exclusive]
An e-book collection of articles, short stories, essays, reviews about sex, drugs, parenthood, rock'n'roll, Gonzo and more.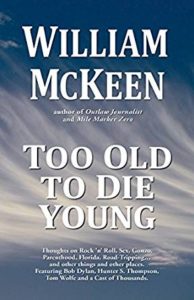 I collect pieces from newspapers, magazines and my files to provide a huge, absorbing anthology of things to read, ranging over my 40 years as a published writer.
There's a special section on Bob Dylan. There's a section devoted to Tom Wolfe and Hunter S. Thompson. Another section ranges over the beauty and splendor of music and its role in our lives.
I bring together a couple of my published stories and a couple of others that appeared in literary reviews but which have never appeared in book form.
Along the way, we have a lot of thoughts on parenting, schooling and living with other human beings.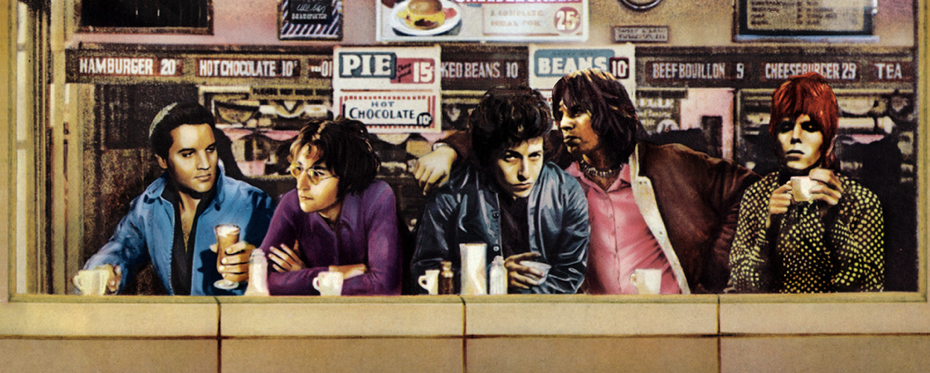 The subtitle is rather long: "Thoughts on Rock'n'Roll, Sex. Gonzo, Parenthood, Florida, Road Tripping and other things and other places, Featuring Bob Dylan, Hunter S. Thompson, Tom Wolfe and a cast of thousands." It's available only online — click on the book cover to order, and it costs only $2.99.
Scroll over the table of contents. Several pieces link to articles or stories.
Part One: Serendipity
Serendipity
Across the Great Divide
Part Two: God's Voice on Earth
Too Old to Die Young
I've Just Seen a Face
Yesterday
Rip This Joint
A Night with Dick Dale
Clarity of Sound and Mind
Not Fade Away
What We Talk About When We Talk About Elvis
Part Three: Love that Bob
His Back Pages
May God Bless and Keep You Always
Deep Into Dylan
Part Four: Road Warrior
Standing at the Crossroads
A Space Filled with Moving
Roads of Memory
Checklist
Part Five: The Lonely Trade
Shiny Car in the Night
The Intergalactic Ego
Life on the Death Beat
The Hippie Poet
Resurrecting Emmett
Tom McGuane's Happy Ending
Comic Tragedy
When Harry Met Mickey
What the Soldier Saw
Man Crush
Part Six: Tom and Hunter
Good Stories, Well Told
Cozumel, 1974
Doing Time on the Proud Highway
The Man in the White Suit
Recipe for a Hero
Blood Brother
The Wolfe Man
Truth is Never Told in Daylight
Say a Prayer
Farewell, Gonzo
Part Seven: Floridays
Pass it On
Lombardi
Travis McGee's Heir
Klink
Thompson's Island
Crazy from the Heat
Sex After Death
Homegrown in Florida
Part Eight: Stories About Us
Garage Sale
The Barber's Lament
The New Mall
Arsenal
Why Chuck Wouldn't Get Out of the Car
Part Nine: Miscellany
Recipes from the Profane Chef
Thoughts on a Horny Poodle
The President in Waiting
Where Have You Gone, Hillbilly Bildilli?
I'm So Tired
The Magic Medium
Lifetime Sentence
Part Ten: A Door in the Heart
Father of Seven
Conversation at Dinner